Content Audit
Usually, auditing the content takes longer, but it massively depends on its volume. I recommend conducting a content audit more frequently than a design audit. Immediately after Google releases a major update rollout it's a proper moment for an audit. Here are the steps to follow for a proper content audit.
Check Google Analytics, Google Search Console, and Social Media Analytics
Every content audit starts with Google Analytics and Google Search Console. The traffic spikes should be analysed and the factors that determined these should be identified. The data should be correlated with social media presence and/or paid traffic. Else, the conclusions may be wrong. For instance, a 150% traffic growth during a week can be the result of a viral blog post. Still, this spike may be the result of a paid promotion on Facebook.
Identifying the best performing keywords is another important fact. Ideally, these keywords should match to the ones from the growth strategy. You should compare them and determine the matching ones.
I strongly underline to give a heed to engagement rate; it's second to none to prove that your content is consumed by readers. If you want to stay on top, your content should be engaging, the on-site time should be reasonable and the bounce rate should constantly decline. In other words, gaming the visitors to get an extra click is no more a winning strategy.
Luckily, all this information is available in Google Analytics and Google Search Console. Apart from these, you should integrate the data gained from social media analytics tools. Check this article to find out more about these tools.
Analyse Each Webpage
This subparagraph is the topic of a separate blog post. Neil Patel has already done it. This step is probably the most important and you should treat it accordingly.
It starts with creating a list of all your content. Google Sheets is Neil's and my favorite tool of choice, but you can use whatever solution you want. Once you finish the list, the next phase is the analysis of each item. Depending on the complexity level of the audit, you can interpret a lot of metrics. However, some metrics are mandatory as:
Content title and its length;
Keyword(s) used;
Meta description;
Organic search and overall traffic;
Time on-site;
Backlinks;
Social media shares.
You can determine best performing content and that pieces that need some polished work to rank higher.
It's meticulous work and it may take time if you need to bring many corrections.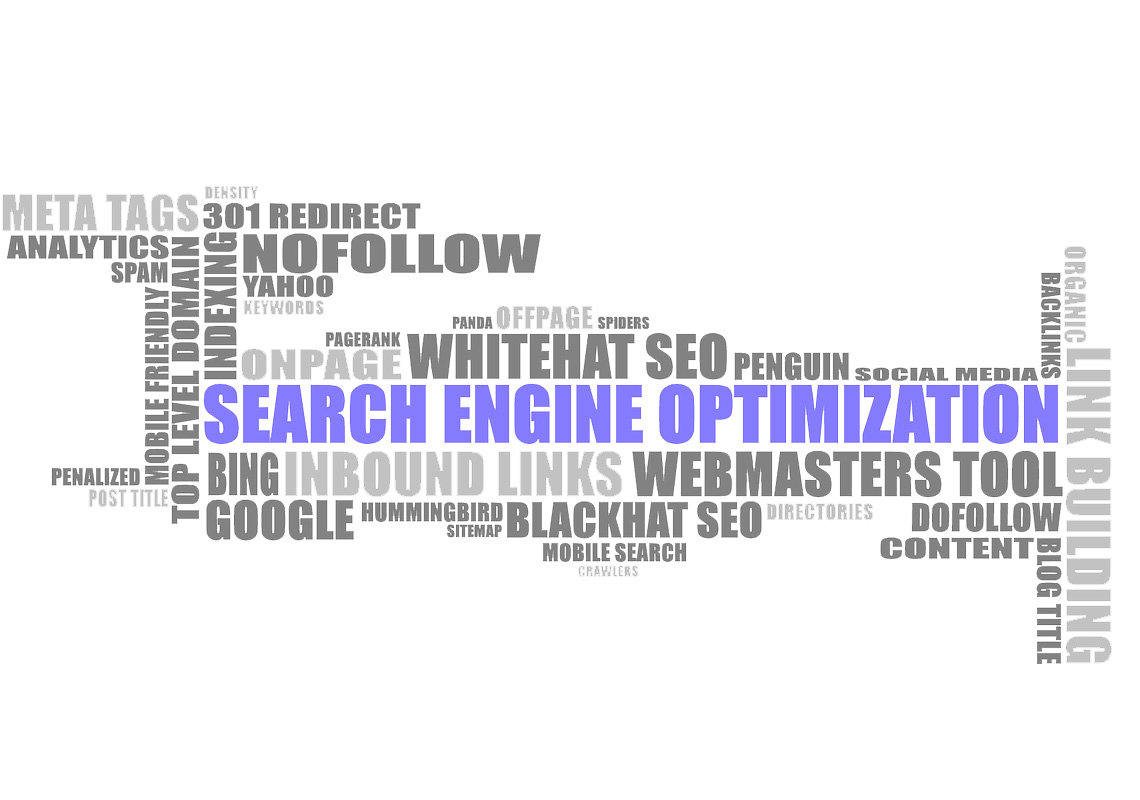 On Page SEO
The boundary between the previous subparagraph and this one is blurred. The auditor can't analyse the content without paying attention to SEO and it's impossible to do on page SEO without a list of all content. This is why so many audit tools put them together.
There are a bunch of blog posts explaining how to master on page SEO, but the simplest successful approach is the article of Brian Dean. You should start with removing duplicate content. Once duplicate content is removed, you should optimize the content titles. The keyword used should appear in the title and in the first 100 words of that piece of content.
On-page SEO is about many factors and humans aren't perfect. As a result, a tool doing correct on page SEO is golden. The following suggestions are suited to help you in this regard.
This web app is free for small websites but the information you get is priceless. It informs you which pages are indexed, shows the broken links and duplicate content. Additionally, it compares the website analysed with the median of other websites. It's a good start for on page SEO.
SEOSiteCheckup gives you plenty of information about the audited website. SEO Checkup analysis starts with common SEO issues as meta title and description, or keyword usage. Further, it offers in-depth data including technical details as minification or canonical tag checking. This app isn't limited to on-page SEO, it gives you a strategic overview over a website.
Seoptimer is another tool that isn't limited to offering some SEO indications. It inspects your website from five perspectives: SEO, Performance, UI/Mobile, Social, Security. You get a mark for each one and pieces of advice to improve the website. On top of that, it is free!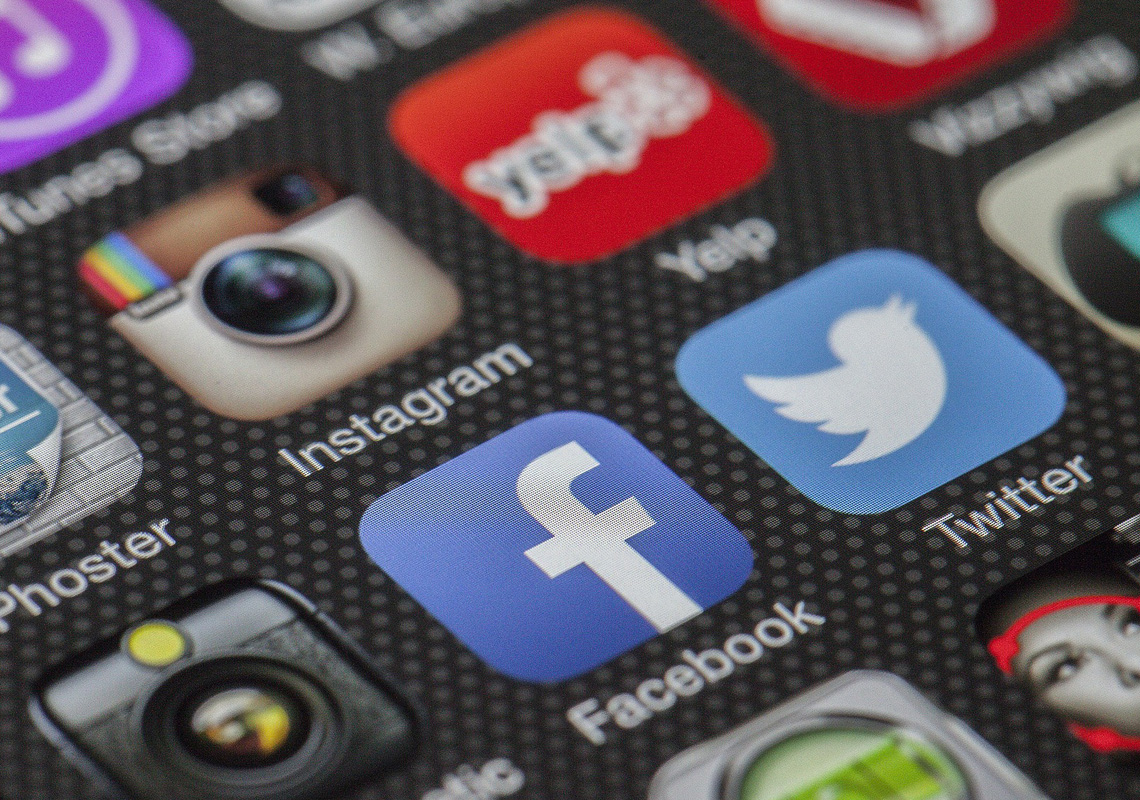 Social Media Performance
Apparently, social media performance doesn't have any common element with a website audit. However, analysing how the content performs on social media could give inestimable hints to improve it. The auditor should determine which content is most shared on social networks and which network has the best ROI.
The final report should contain clear indications about the best performing content type, the ideal format, and ROI of each network. It also should offer suggestions about paid promotions vs. ROI per social networks. Buzzsumo is an irreplaceable tool to help you figure out which content was most shared.
Strategic Suggestions
I highlighted many times across this post the importance of offering suggestions instead of pointing out the mistakes. The audit should provide clear fixes for each issue, but it also should contain strategic tips to enhance the website. These heavily rely on the purpose of the website. Migrating to HTTPS is mandatory for an e-commerce website, but it's not a top-priority for a blog. However, I identified some things that have the potential to skyrocket a website.
Loading Speed
Garry Vaynerchuk nailed it down – "smartphone is the new television and television is the new radio". No matter how fast the wireless technology evolves, website loading speed will be always a problem. Your audit should contain as much as possible ideas for speeding up the loading speed. Amazon performed tests on themselves and proved that any extra millisecond means losing money.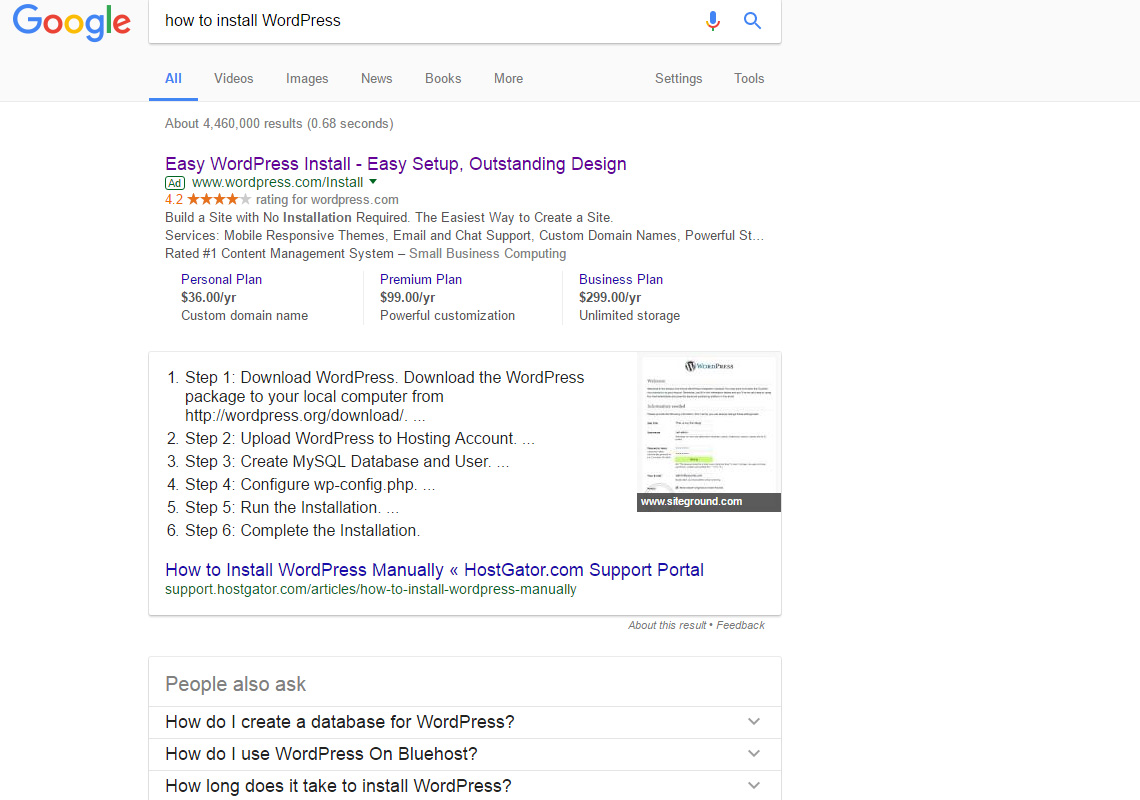 Adding Schema Markup
Schema markup may sound unfamiliar to you, but certainly you saw it in action. It's the markup that allows displaying structured data (information structured to be easily understood). The example below is relevant; I typed into the search box "how to install WordPress" and Google provides me an ordered list showing the steps to do. Most likely, schema markup isn't a ranking factor, but being displayed before any search results will make people trust your website. Wrapping up, any audit should recommend adding schema markup.
Live Chat/ Chat Bot
Adding live chat support or a chat bot is cool and will impress the customers. Still, it's a feature that isn't necessary for projects like blogs, magazine, news, or portfolios. The auditor should take into account the website purpose before making such a proposal.
Implementing live chat support or a chat bot isn't so complicated as it may sound. If the website is running WordPress, you should be happy because developers have created many live chat plugins. My ideas might be questionable, but when Neil Patel states that live chat boost conversion rates it's crystal clear that you should implement live chat.
Adding a chat bot is currently more difficult than live chat support, but in the next few years, bots will be common. If you want to stay ahead of your competitors it's time to pay attention to bots. A professional audit should state if it is worth to implement a chat bot.
This is the end of this post and I hope that I managed to shape how to conduct a website audit might look. It's a complex activity that can't be replaced. On top of that, when it's done professionally, the results are rewarding. Do you agree with my ideas or do you have a whole different approach? I am waiting for your input.
Exclusive 7 Day Course
Defend your site from hackers, improve your website speed, get free uptime monitoring and learn tactics used by WordPress experts
Many thanks for subscribing.
Something's not right.