10. How to Download WordPress Plugins
Plugins make the life of WordPress users more comfortable. Setting up a plugin is a five-minute task, and it reduces a lot of headaches. You may ask yourself why you need a plugin. If you compare your website to a car, a plugin would be a tuning accessory.
The WordPress repository is the best place to get information about and download plugins. Currently, there are 50k+ plugins, so you would need a lifetime to explore all of them! The plugins are manually reviewed, meaning they are secure and bug-free. However, bear in mind that nothing man-made is perfect, so double check any plugin you install on your website.
WordPress users rate and review plugins. Your decision to take a chance on a plugin shouldn't rely only on other people's opinions, but they are a good indicator. A plugin with many positive reviews and a rating of 4.8–4.9 stars out of five means that it's probably a good fit for your website.
The WordPress repository is home to 50k plugins that are tested, reliable, and free. Many WordPress users install plugins only from here. Others need enhanced functionality, and these plugins don't satisfy their needs. Premium marketplaces were launched for users asking for higher quality. Some of the most heavily visited marketplaces for buying premium plugins are the following:
You have endless plugins options, and developers work hard to release better versions. Some of them are truly irreplaceable while others are optional but save precious time. When you are in need, rest assured that there is a plugin to resolve your issue!
Here are some other suggestions to take into account before downloading a plugin:
Don't download a plugin if you aren't sure about its source
You won't be getting a deal by downloading premium plugins for free. Usually, these 'unbeatable offers' are the actions of tricky hackers. The plugins may contain malicious code that could infect your website's files.
Limit the number of plugins you install
There is no maximum or minimum number of plugins to install. It depends on your admin needs and the site's size and purpose. The fewer plugins installed, however, the fewer chances of being hacked due to a security breach.
Also, plugins slow down the loading speed. It's true that the influence of a single plugin may be ignored, but a high number of them might cause severe problems.
Avoid plugin conflicts
Some plugins aren't compatible with others and affect the website's performance. These cases are pretty rare, but it could happen. Also, before installing, check if the plugin is compatible with the theme used. Finally, avoid installing plugins that do similar jobs. It's a waste of resources that you can avoid by paying attention to documentation and reviews.
11. How to Install WordPress Plugins
Installing a WordPress plugin is a breeze, and you can do it by using one of three methods.
Install a Plugin from the WordPress Repository
Head to your WordPress dashboard and go to Plugins > Add New. You should have the featured plugins displayed on your screen. Type a particular keyword describing the plugin you are looking for into the search bar. You can also search by author, keyword, or tag. The search engine works well enough to offer relevant suggestions.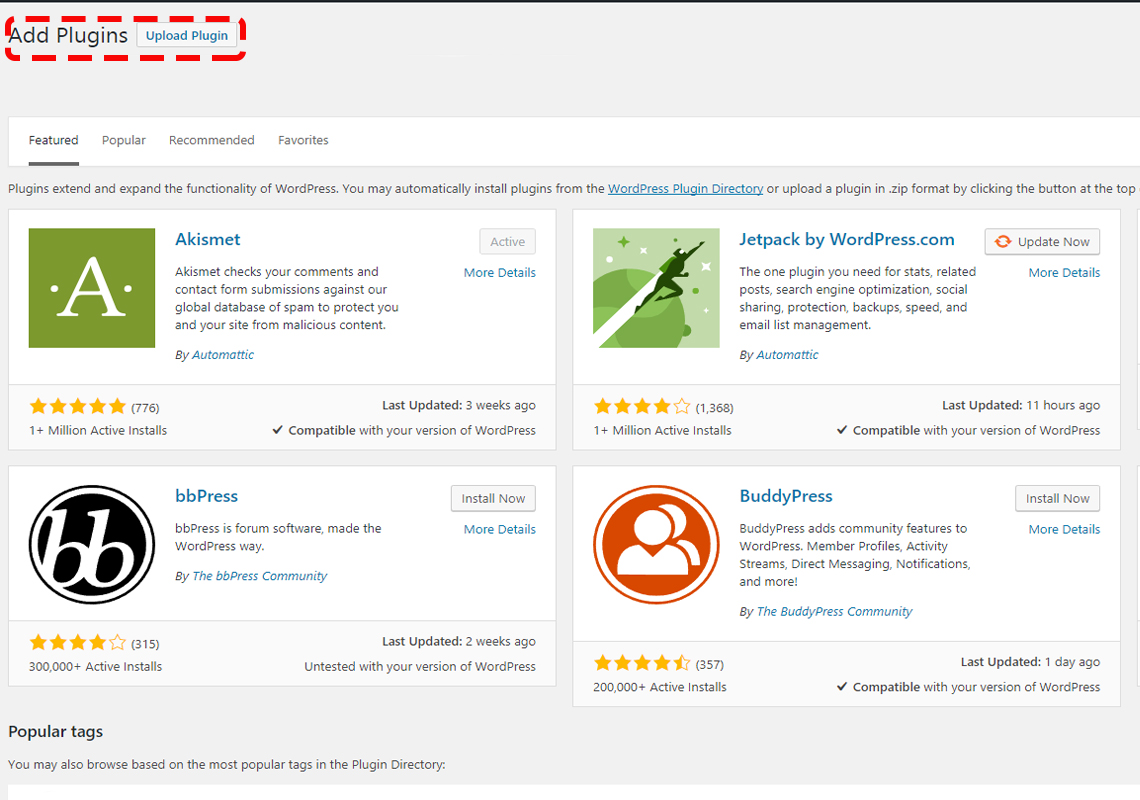 Install a Plugin by Uploading It
Head to your WordPress dashboard and go to Plugins > Add New. This time, click on Upload Plugin > Choose File and select the archive containing the plugin you want to install. This method is the best for uploading a plugin from sources other than the WordPress repository.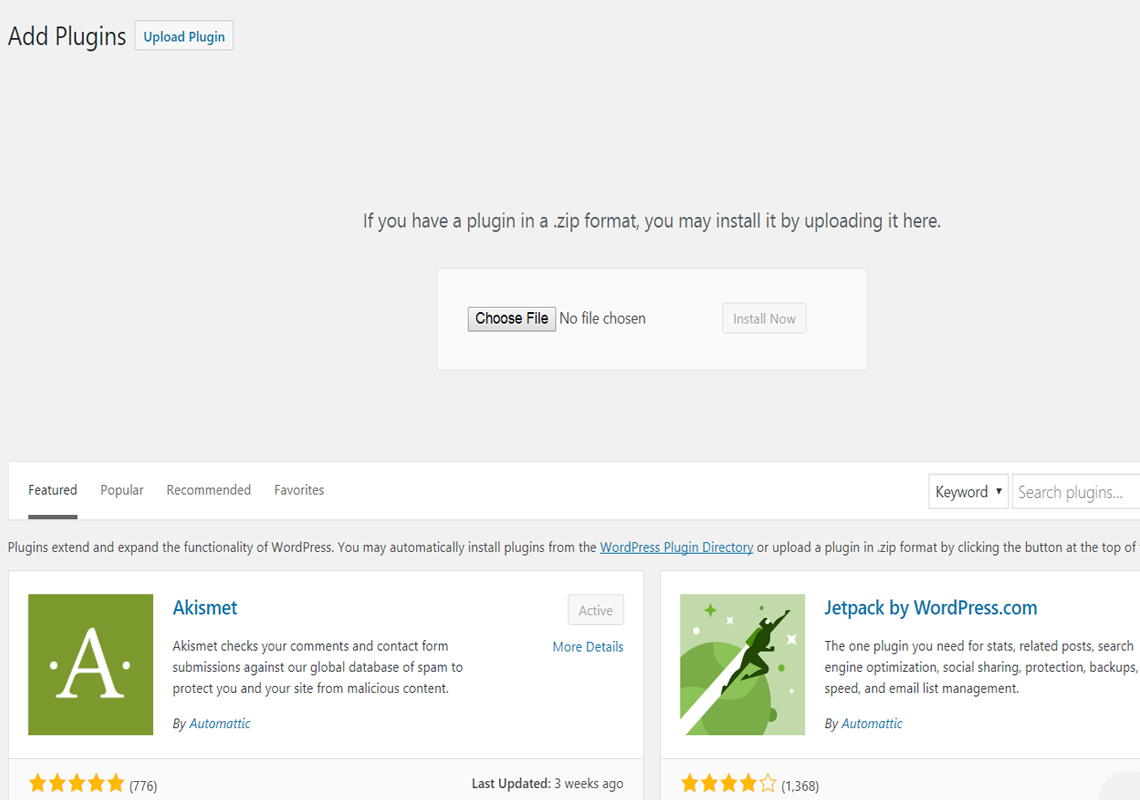 Install a Plugin via FTP Client
This isn't a beginner-friendly method, but it's good to have an idea about it. Open your FTP client and connect to your host. Select the plugin files you want to install and upload them in the /wp-content/plugins/ path. Once you uploaded the plugin, go to the Plugins section of your dashboard and click on Activate the plugin.
Installing and activating a plugin is only half of the job. You need to set up the majority of them manually. Some plugins require a single click only while others need serious customisation work. What really matters is that you review each setting and make it work for you. For example, Yoast is a plugin trusted by the entire WordPress community, but it won't work if you don't set up it correctly. Don't ignore this step!
HINT: Plugins, the same as the themes, need to be regularly updated. They might have minor bugs that are corrected with new iterations. Usually, the updates fix security issues, and you will need to update themes and plugins to strengthen your website's security. It's a primary task that will improve your site and make it more secure.
12. How to Use WordPress Plugins
I believe that the following classification of the plugins will help you better understand their utility. Altogether, this is just for streamlining your learning efforts and not an official classification.
SEO
WordPress is an SEO-friendly platform, but by far it's not enough to rank your website number one in searches for your desired keywords. On-page SEO is vital, and developers have created efficient plugins to support your SEO strategy. Yoast SEO and All in One SEO Pack are two popular SEO plugins that are currently used and trusted by 3+ million users.
Caching
Caching plugins are useful for caching your website files and making it load faster. In a world where mobile devices are massively used, a caching plugin is almost compulsory.
W3 Total Cache and WP Super Cache are caching plugins that have been massively installed. Customising them might get you in trouble, but you shouldn't skip installing a caching plugin.
Security
Website security isn't a thing to ignore! Developers have created many security plugins, and some of them have been installed by hundreds of thousands users who are happy with them. Bear in mind that many complex security plugins are free. Wordfence and Sucuri Security are two plugins that tremendously improve a website's security.
E-commerce
WordPress started as a blogging platform, but it's currently being used for any kind of project. You can use WordPress for e-commerce websites by installing plugins such as WooCommerce.
Sliders
These plugins are suitable for creating image galleries that delight viewers with modern sliding effects.
A single plugin of this kind will add dynamism and create a good first impression. Unlike security or caching plugins that entice users with technical features, a slider plugin impresses with its aesthetics.
The WordPress repository is home to many sliders, and you will surely find one suitable for your needs. I suggest Meta Slider and Smart Slider; both of these have 100,000+ active installs and good ratings.
Social Media
Neglecting to leverage social media for your website is a huge mistake. Add media sharing buttons to help people share your best content with their circles. Add to Any and Simple Social Icons are two reliable plugins that deserve your attention.
Miscellaneous
Developers have created many plugins that are impossible to group into well-delimited categories. There are plugins to create forms, forums, calendars, auctions, and more. I have grouped them into a large category called 'miscellaneous' for learning purposes. Bear in mind that there is a plugin for every issue!
Exclusive 7 Day Course
Defend your site from hackers, improve your website speed, get free uptime monitoring and learn tactics used by WordPress experts
Thank you for subscribing.
Something went wrong.