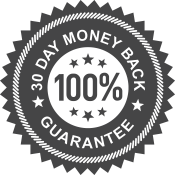 30 Day Satisfaction Guarantee
We know that you're going to love working with us and to prove it we're backing every purchase with our 30 day money back guarantee. That's right, we'll refund 100% of your money if you're not happy with our service within 30 days of signing up.
Frequently Asked Questions
What happens if I exceed my usage?
We're fair and we've found that our clients are as well. We don't have a set limit, but we base it on sharing with others, so if we notice that it's starting to go beyond what we feel is fair, we'll let you know and we can discuss upgrading you to a different plan.
Do you backup my site?
Yes, as it is required to have a site care plan your site will be backed off-site, on top of that we also backup all of our servers on a regular basis for extra peace of mind.
Can I have ftp access?
As we're responsible for maintaining your website we keep everything locked down to ensure your site is secure and maintainable as possible. We're happy to install plugins and make changes as required using our site care and development plans, or we can setup and give you access to a deployment system via git and ssh if needed, just be aware that there may be a learning curve involved.
Can I install my own plugins and themes?
We have a close relationship with our clients, so you can talk to us about any plugins you want to introduce and we will be more than happy to review and install for you. If you need more control than that we can show you how to use git to version and deploy via a secure SSH connection.
Do you offer a mail service?
Our servers have a strong emphasis on security and performance. Including a mail server would compromise this, so instead we advise using a dedicated service such as G Suite, or Office 365. We're more than happy to advise and help you get setup using one of these applications.
How is caching setup for my site?
We use a combination of opcode, object and page caching at the server level to make your website fast and reliable. We don't use WordPress cache plugins, however we do introduce Redis and Nginx helper plugins to your website, which communicate with the server to flush the cache whenever you update your content. By managing your domain name we can also add Cloudflare for even better security and performance.