Standard
£25

/YR

billed annually
Domain Name Renewal
WhoisGuard
DNS Management
Limited DDoS Protection
Global CDN
Shared SSL certificate
SSL Supports Most Modern Browsers
3 Page Rules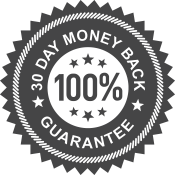 30 Day Satisfaction Guarantee
We know that you're going to love working with us and to prove it we're backing every purchase with our 30 day money back guarantee. That's right, we'll refund 100% of your money if you're not happy with our service within 30 days of signing up.
Frequently Asked Questions
What is DNS?
DNS (Domain name system) is an internet service that translates domain names into IP addresses. Each time a domain name is used it must be translated in order to know where to send the traffic. Domain name records include the web address, subdomains and mail services. These records and more must be managed in order to ensure that the specific traffic goes to the right place when needed.
Do I own my domain name?
Yes, although your domain name lives within our account, we ensure the the registrants details are in your name. If you need to regain control of your domain in the future we can assist with that, or you can use the Namecheap (or other) change ownership option - we just need a heads up to allow it to be transferred out.
Can I change my Nameservers or IP addresses?
We take care of that for you, just pop us a request via live chat, or email and we'll get right on it.