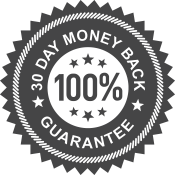 30 Day Satisfaction Guarantee
We know that you're going to love working with us and to prove it we're backing every purchase with our 30 day money back guarantee. That's right, we'll refund 100% of your money if you're not happy with our service within 30 days of signing up.
Frequently Asked Questions
What's your hourly rate?
Our day plans are based on 7 hours at £50 per hour, this gives us enough time to work through a series of tasks without getting burnt out. A days worth of work may be spread out throughout the week, we use a tool called Harvest to keep track of time taken. If you need to know how much time you have left during development just ask and we will be happy to provide you with an accurate answer.
When is my development work scheduled?
We're able to start working on your requests within 1 business week of receiving your order. Once the initial work is done we can agree on the best time to work on your website each month. We tend to keep Fridays clear for learning and growing our business, which means that there is always availability, allowing us to move things around should something really urgent crop up.
How do you manage our tasks?
We use a tool called Basecamp, this allows us to share ideas, gather feedback, and track the progress of your project without any unwieldily email chains. You can either send us your requests and we can list them, or you can list the tasks yourself ensuring that they're always in priority order.
Can you make me a website?
If it's a really good fit between our two companies and it's a project where we're able to provide a return on investment, we'll be happy to discuss meeting for a strategy session where we can look at your businesses problems and suggest solutions to get you to where you want to be. From there it's up to you if you want us to take on the proposed project, or if you want to take the roadmap deliverable we will have created for you to other firms, that will now be able to provide you with realistic quotes for what you actually need. Once your WordPress project is built we're more than happy to provide site care, hosting and development work to keep your investment moving forward.