30 days to exceed your expectations or we'll give you your money back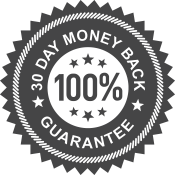 30 Day Satisfaction Guarantee
We know that you're going to love working with us and to prove it we're backing every purchase with our 30 day money back guarantee. That's right, we'll refund 100% of your money if you're not happy with our service within 30 days of signing up.
WordPress Support
We're available for small fixes and help 8am - 8pm and we resolve most requests within the hour.
WordPress Updates
We test and update your WordPress core, theme and plugins to keep your site up to date and secure.
WordPress Backups
Your backups are taken in real-time as you make changes and we store them off-site for safe keeping.
Security Monitoring
Your website is monitored and checked against blacklists keeping your brands reputation intact.
Hacked Website Cleanups
If your website somehow manages to get hacked under our watch we'll clean it up at no extra cost.
WordPress Video Tutorials
Access to the latest WordPress tutorials to empower you to get full control over your websites content.
Sucuri Firewall Protection
Protect your site from hackers, attacks and exploit attempts to keep you website and it's visitors safe.
Pingdom Uptime Monitoring
Being the first to know of any issues impacting your website's availability allows us to fix it fast.
Staging Website
A private clone of your website for approving and testing changes before they go live for everyone to see.
Version Control
To keep track of your site changes and enable multiple people to work on your site files at any one time.
Dedicated Cloud Hosting
Fast, secure and scaleable cloud hosting optimised for WordPress with free Certificates as standard.
Performance Optimisation
Make your website faster and more efficient with routine maintenance tasks and improvements.
Frequently Asked Questions
Which payment methods do you accept?
We currently accept payments via Direct Debit. We have found this to be more reliable as it is easy to setup, avoids issues such as when credit cards expire and it's more flexible which allows us to serve you better.
Do you offer discounts for multiple sites?
Yes, we offer a 10% discount for each additional site care plan. Once you've signed up and are logged in to your account you'll have access to this offer via the pricing and purchase page.
What happens if my website breaks?
You can login to your account on this website and use the live chat feature, or you can email us at [email protected] and we'll get right on it.
Does it matter which web host I use?
All hosts are different, some better than others. Ideally we would like you to host your website with us to ensure that it's fast, secure and so we have better control which makes both of our lives easier when performing updates and fixes. However we're happy to recommend other hosts should you require something in between.
Am I locked into a contract?
No, we like to earn your business every month, and if you want to cancel we're happy to help you transition, risk free.
Can I change my plan after signup?
Yes, you can upgrade, or downgrade as you wish via the subscriptions section in your account area. If you're not sure how to access this, contact us and we'll be more than happy to help.
Where is your team located?
We are based in Cambridge, Uk. We're a team of WordPress experts who love helping people with their online goals. Everyone who works for Newt Labs has full time employment status and we occasionally work with contractors on bigger projects that have tight turnaround times.
How do I know when a task is support, or development?
If it's a fix that seems like it could be solved within 30 minutes, or you have a question, or need advice that's support and can be submitted via live chat, or email to [email protected]. If it's a change to how your site currently works, or you need a non-urgent fix that seems like it will take a longer time to resolve then it should be submitted as development work via Basecamp.
What's your refund policy?
We offer a 100% money back guarantee during the first 30 days of service. Once 30 days have passed, refunds are prorated for the remaining time left in the month.
What are your support hours?
Our default hours are 8am – 8pm GMT or GMT+1 in the summer months.
Why shouldn't I add plugins directly on production?
We create, track and test versions of your website as it progresses over time. This includes testing new plugins for incompatibility issues before we deploy them to staging for further testing and approval. It's best to ask us to add new plugins for you, or we can give you access and show you how to use version control so you can test and we can continue to maintain them going forward.
My site has been hacked, can you clean it up?
If you have a site care plan and your website has been hacked then we're happy to perform a malware cleanup free of charge. If you don't have a site care plan you can sign up for one, however when taking on new sites that contain malware we also charge a one-off emergency hack cleanup fee. Once a site has been cleaned we advise continuing with site care and protecting it with Sucuri's CloudProxy firewall, which is included in our Protection site care plan.