Usually, a website or a start-up's growth is associated with a successful plan. In fact, every great achievement is determined by a viable strategy. Benjamin Franklin once said, "if you fail to plan, you are planning to fail", and I couldn't agree more. Planning is essential for any achievement. These ideas should sound familiar to you; many books and blog posts are centred on the notion of planning.
Clearly, a good plan is at the root of a successful project. But what is at the root of a good plan? Significantly fewer books, video materials, and blog posts are available about this topic.
A serious audit is the base of a good plan. The timeline of a successful project is simple—audit, plan, and execute. Let's take the example of a bridge. The auditing phase checks the soil and determines the best terrain for pillars, the best design, the ideal length of the bridge, and many other technical aspects. The planning makes great use of auditing data and creates an execution schedule. The more complete the plan is, the fewer problems are encountered when it is executed. The execution is nothing more than bringing the plan into play.
This algorithm is valid not only in civil engineering but also in any field, including any online business. Audits are a vital component in the equation of a successful action.
In this article, I will present how to do a complete website audit. It's not a simple job, and it requires a strong endeavour and careful website analysis.
Before we get to the algorithm of a website audit, let's outline the "whys" of doing it.
Why Conduct an Audit
1. Reality vs. Expectations
Many entrepreneurs and webmasters set high expectations. People are motivated to reach them, and some manage to do so. Still, the majority fails. The correct recipe is to set realistic expectations. There is no better method to do that than by conducting a serious audit. It's better to be realistic than dream of millions of page views without a data-backed foundation.
2. Determine the Quality of the Design
Design trends come and go. While good design is timeless, trends have their importance. An outdated design is a sure-fire way to make potential customers run away from your website. Conducting a complete audit will determine the state of the website design, the strong and the weak points of it, and will contain suggestions about how to improve it.
3. Determine the Quality of the Content
Poor content is the way to kill your business. Quality and actionable content, however, could bring a lot of leads. People's needs are changing, and your content should adapt to them. A proper audit reveals how people consume your content and lets you know where there is room for improvement.
How to Conduct an Audit
People misunderstand the concept and the modality of conducting a website audit. This process is a general evaluation of a website, and it's different from an SEO audit even though they have many things in common. Conducting a realistic audit falls into two major categories:
Design Audit
Content Audit
Even though website audits fall into two categories, these categories aren't independent of each other.
There isn't simply poor or good design; rather, it's design that is or is not aligned with the content.
The single successful combination is a good design that is aligned with the content.
Disclaimer: This approach is based on my experience, and it's in line with how others do an audit. Anyone that uses a different algorithm isn't doing it wrong. The aim of an audit is to offer correct and efficient suggestions regardless of the method used.
Design Audit
Auditing the design of a website isn't simple at all. Usually, it's a matter for senior designers, but it can be done in-house when you are on a tight budget. There is a lot of ground to cover, so let's get started!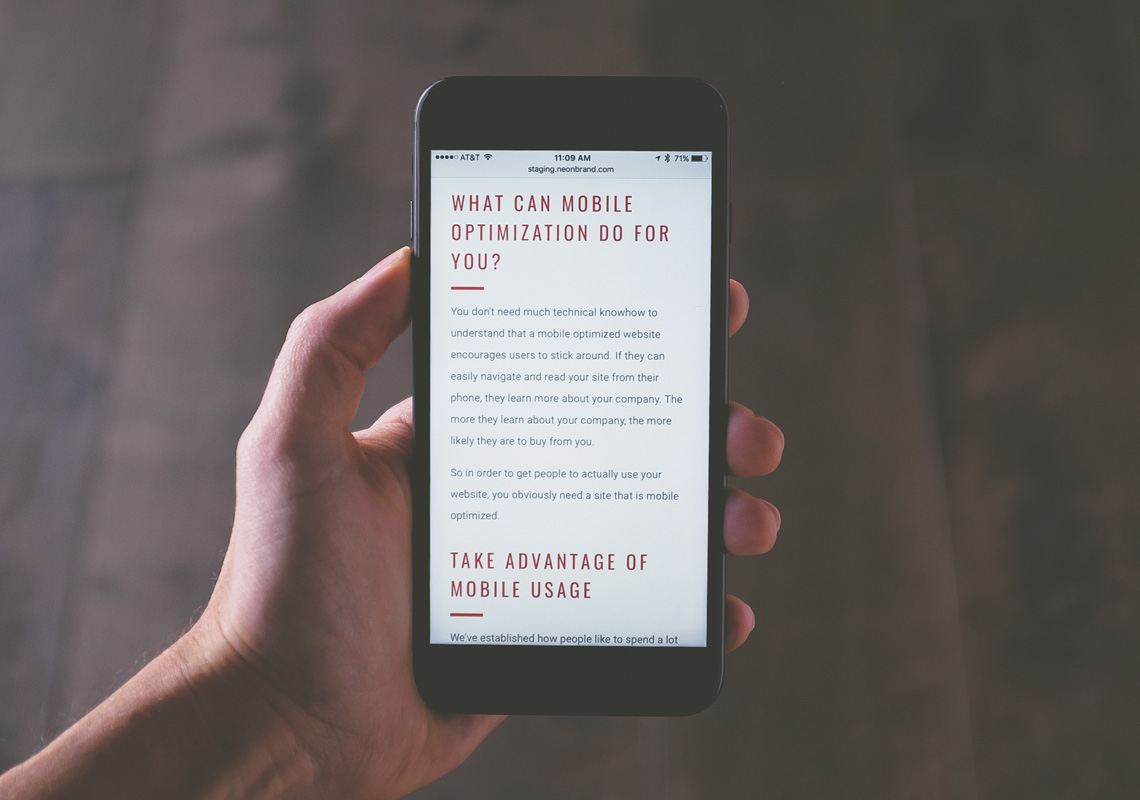 1. Mobile Friendliness
Many of you may consider this point redundant. Dave Sloan conducted an interesting study, and the results are horrendous—only 30% of small businesses have mobile-friendly websites. This percentage isn't a professional statistic, so take it with a grain of salt. However, it brings to light that there are still many websites that aren't mobile-friendly.
Being responsive isn't equivalent to being mobile-friendly. It's not enough to test the responsiveness of a website to claim that it is mobile-friendly. Responsiveness is mandatory, but it's not enough for a mobile-friendly website. Here are some areas to check for the mobile-friendliness of a website.
Loading Speed
People don't have the time and patience for your website to load. Google wants to satisfy them and urges all webmasters to make their websites load faster and faster. Loading speed impacts your SEO because it is a ranking factor.
Simple Design and Navigation
A simple design is the best approach for mobile websites. The more clicks are required, the more chances to miss-click, annoying the users. Navigation should be simple and intuitive.
Tap Targets Size
Tapping the wrong button is irritating. A professional audit should provide insightful recommendations in this regard. It's not only the size of the items but the spacing around them to disambiguate taps that is important. This is an old but gold blog post that explains the concept of finger-friendly design.
Tools to Test Mobile Friendliness
Google provides two great tools to test the mobile friendliness of a website. Mobile-Friendly Test is an inestimable tool that offers a Yes or No answer. It's that simple—you add the website URL and hit "Run the test".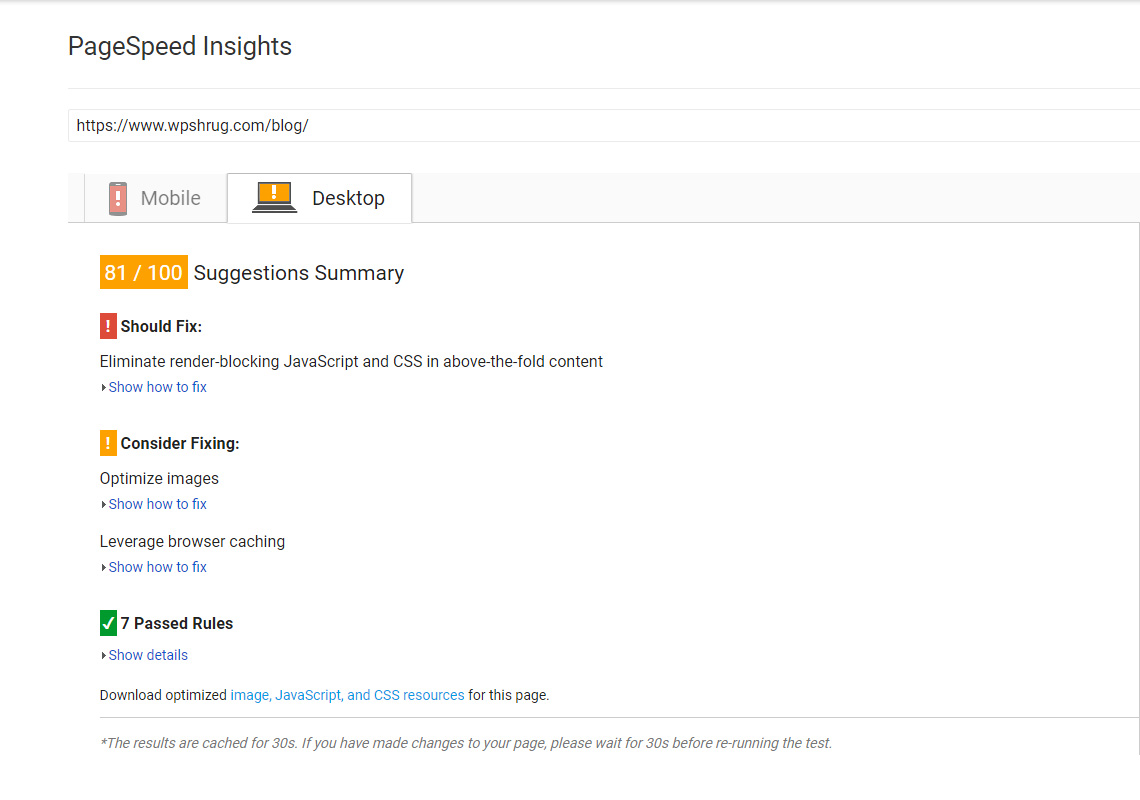 This is a test to check the loading speed of a website, but it offers valuable indications to improve it.
Concentrate all your efforts on resolving the problems under the "Should fix" tab. "Consider to fix" suggestions are less important, but don't neglect them.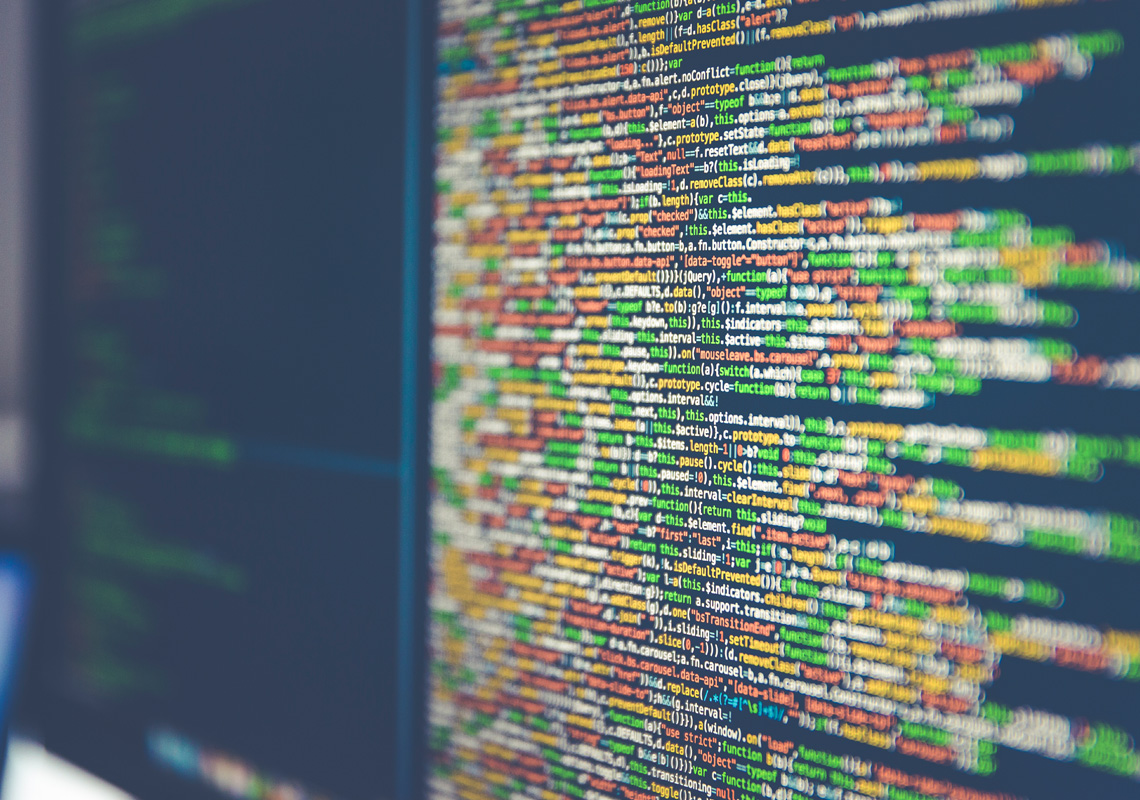 2. Website Design & Coding
Judging the design of a website is subjective. There is no unanimously liked website, and it won't ever exist. The cultural differences amongst people are significant. While a colour combination may work fine in Europe, it may hurt the feelings of Asians. Check the meaning of colours all across the globe.
Any website design can be improved. A/B testing is the simplest data-backed method of making a better website. However, there are some aspects that should be checked during an audit.
Alignment with Website Purpose
This step compares the website design and its purpose. These should fit well together; otherwise, the message received by the viewer is elusive. For instance, a DJ portfolio should be in line with DJ core values. The portfolio should be unique, modern, and dynamic. The social buttons should be bold and clear to allow fans to interact with their favourite. Armin van Buuren's website is a good example.
Cutting-Edge Design
An outdated design doesn't let users consume the content. Is the audited website based on the latest technologies? Does it need a complete revamp or just some fine-tuning work? Is the design efficient; are the CTA buttons placed into the most clicked zones? Are the colours used in harmony? Are the fonts readable and cool?
The answers to these questions make the difference between a decent and an actionable audit. Don't showcase the good or weak points. Instead, offer multiple solutions and growth strategies. The clients asked for an audit because they needed data-backed strategies. Most clients are clueless to the fact that the header performs well while the footer is poorly designed!
Consistency and Cleanliness
Consistency is a key element for any successful website. During an audit, visit all the web pages and check if they follow the same pattern. Also, a clean website won't cause trouble for the users. Don't be afraid of making suggestions like deleting some design items. If it's not utilised, it shouldn't be in your layout. Antoine de Saint-Exupery said it right: "perfection is achieved not when there is nothing more to add, but when there is nothing left to take away!"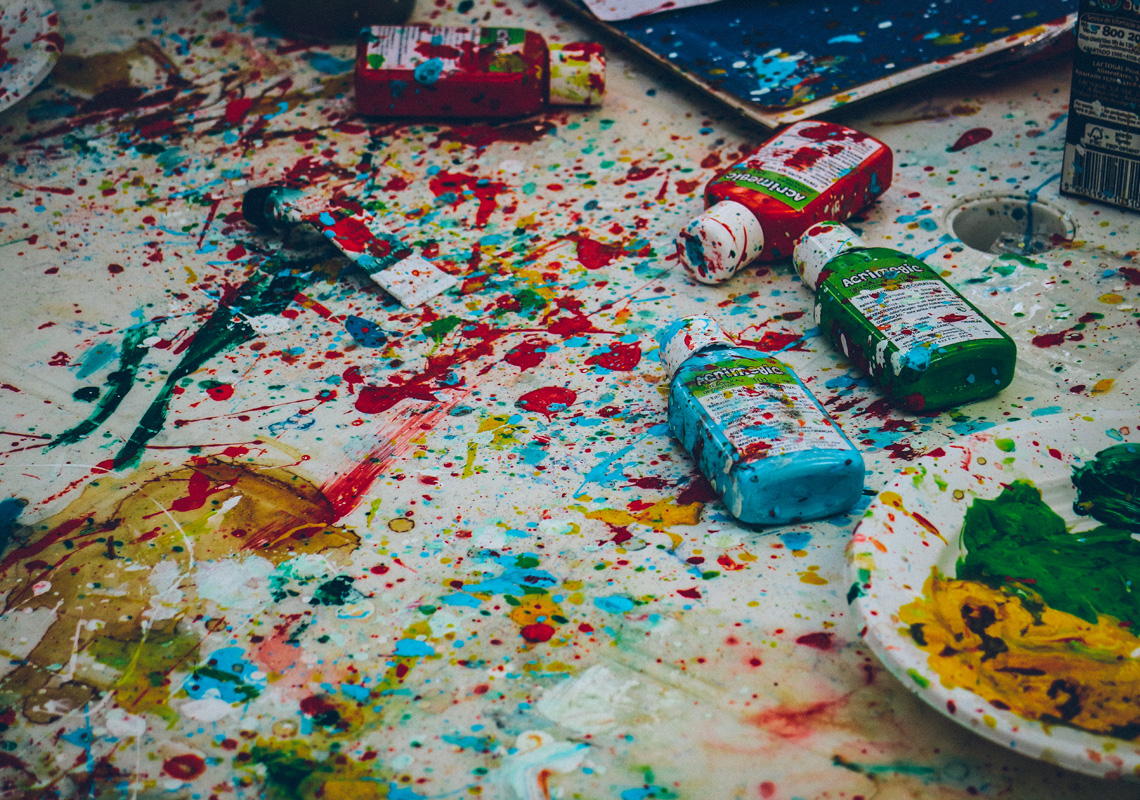 Imagery
Imagery is underestimated, and your audit should focus on improving this aspect. First, the images used should be unique, so avoid royalty-free solutions. Second, the image size matters a lot; the less space is required, the faster the website will load. Every image must be optimised. Third, remove what isn't necessary. White space looks better than a meaningless image.
Clean Code
Code isn't seen by users but it has a major impact on their experiences. A clean codebase will skyrocket the loading speed. Also, check the website for bugs or poorly working forms. It's so frustrating to lose a potential client just because the contact form isn't working!
3. Accessibility and Usability
The days when accessibility and usability were fads are gone. If you want respect, you should respect!
There is no better way to show respect than creating an accessible and usable website. The distinctions and overlaps between the two terms are beyond the scope of this post. If you need a short recap, this article is all you need.
Improving the accessibility and usability of a website is time-consuming, but the following resources will save you a lot of time and energy.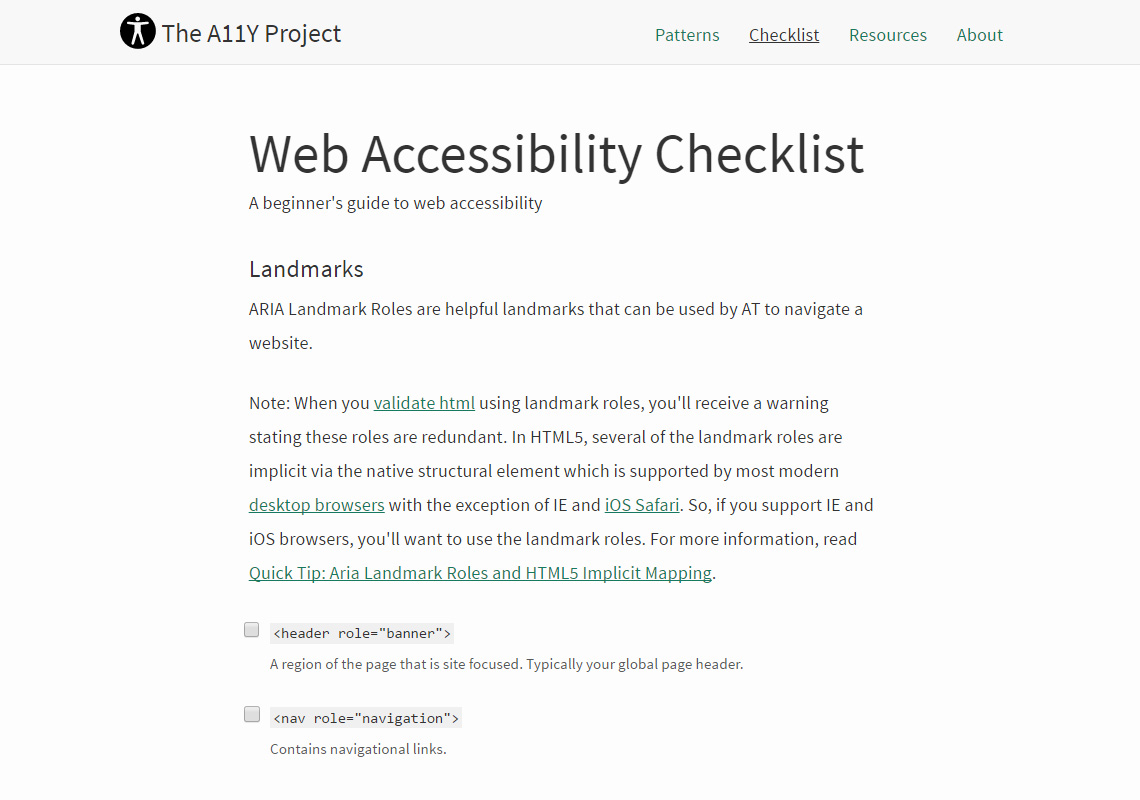 This is a great tool; it reminds you what should you do to make a website more accessible. An auditor should check the achievement of each item from the list generated by the app.
This is a simple test to check the accessibility of a website. It is practical because it offers clear instructions about accessibility improvement.
4. Site Architecture
This chapter needs special attention for auditing blogs, magazine news or e-commerce websites. While a portfolio may have a few webpages, a 2-year blog may have 500 posts and other webpages. A website is a dynamic and evolving entity and the site architecture should reflect it. At the same time, the architecture should help users to have a great experience and drive them seamlessly through the sale funnel.
Wrapping up, the auditor should offer a plan to improve the website architecture depending on the users' preferences. For instance, a blog initially niched on alternatives to WordPress. The auditors notice that the blog posts focused on Joomla are on the first positions on users' searches and drive the most engagement. Consequently, the auditor should recommend adding Joomla as a category and add it to the primary menu.
Data regarding the best performing posts is stored in Google Analytics and Google Search Console. An auditor can't determine the best architecture without data from these tools. This underlines that design and content audit blends.
Exclusive 7 Day Course
Defend your site from hackers, improve your website speed, get free uptime monitoring and learn tactics used by WordPress experts
Many thanks for subscribing.
Something's not right.