On 27th May, we celebrated 14 years since WordPress was released. Nowadays, no one can imagine the Internet without WordPress. Ease of use was the primary factor that led to its success. Of course, there are many other factors such as simplicity, open-source format, stability, and effectiveness that have contributed to WordPress' expansion. However, users needs constantly evolve, and WordPress needs to satisfy these. Luckily, WordPress developers are aware of this fact and try to improve it for their clients.
Having granular control over a website's layout is a major user desire. It goes hand in hand with a more intuitive user interface. Specifically, users want to achieve more with fewer clicks. "There is a plugin for everything" is a famous saying in the WordPress Universe and it is valid in this case too.
The aim of WordPress page builder plugins is to give to new users control over every pixel of a layout.
As a result, these plugins must be simultaneously powerful, sophisticated, and easy to use. These plugins require a colossal amount of work from their creators. One of the developers of Elementor – a page builder plugin – states that it took two years of constant work from the initial idea of creating it up until the release date.
If you have never used a WordPress page builder, it's time to get your hands dirty with it. If you have already used one, here is a useful collection of free and powerful WordPress page builders to install and test.
Disclaimer: More and more WordPress themes come with built-in page builders that are powerful and jam-packed with incredible features. However, this post is focused only on standalone free plugins.
Stay in touch with us on social media or subscribe to our newsletter to receive our latest posts. Hint: soon, we will showcase the most interesting WordPress themes that have built-in page builders.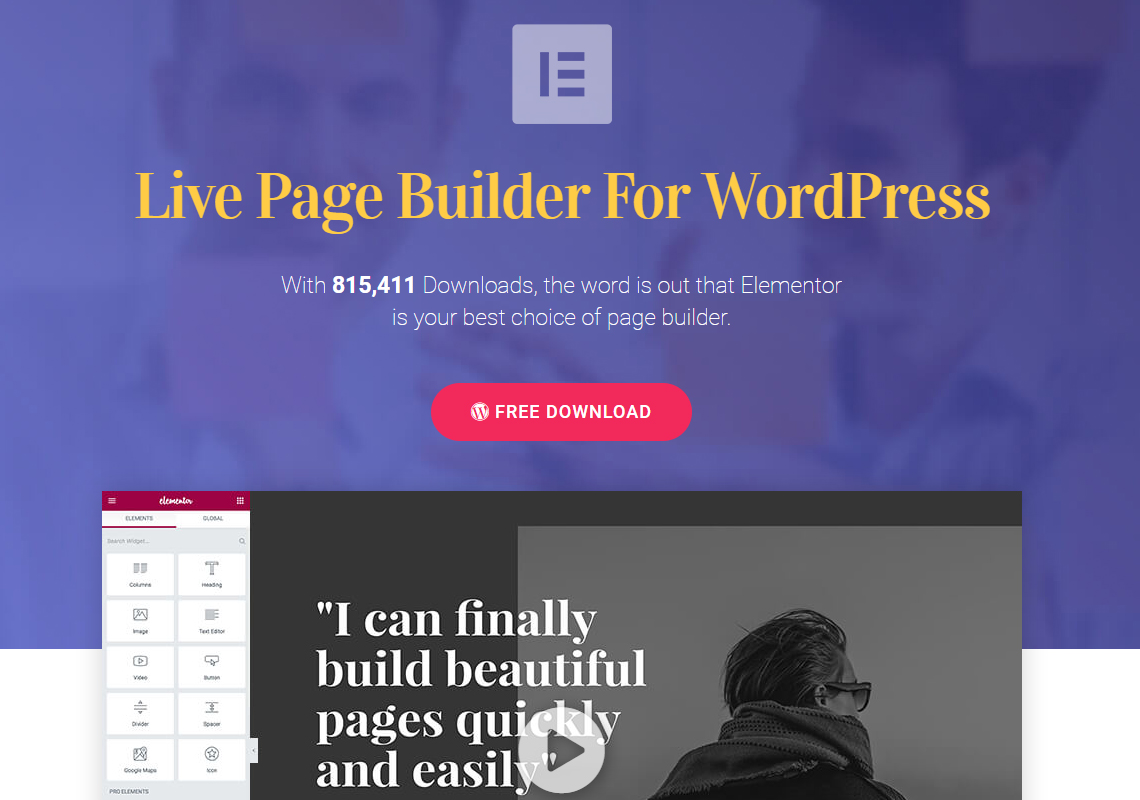 Elementor is a plugin that will make you say "wow". I think that it's not marketed enough considering its unlimited options. It has two versions: free and pro. However, the free version is more than enough to give you unlimited powers to create your desired layout.
From the start, Elementor will impress you with its lag-free behaviour. It works seamlessly even for resizing full page elements. Elementor is a plugin indeed for people with no coding knowledge. It lets you create a complex website without writing a single line of code. On top of that, there is no learning curve! Once you install the plugin, you can see it in action by hitting the "Edit with Elementor" button.
Working with Elementor involves adding elements from the sidebar to the page or post. Each element can be stylised to represent your vision perfectly. Column, Image, Accordion, Image Gallery, Google Maps, Toggle, or Testimonial are just a few elements you can use freely. The pro version has additional elements; mostly they are for e-commerce or business websites.
You know these awkward back and forth moves to check your mobile and desktop layouts? These are history with Elementor as it has a built-in preview of mobile and desktop designs.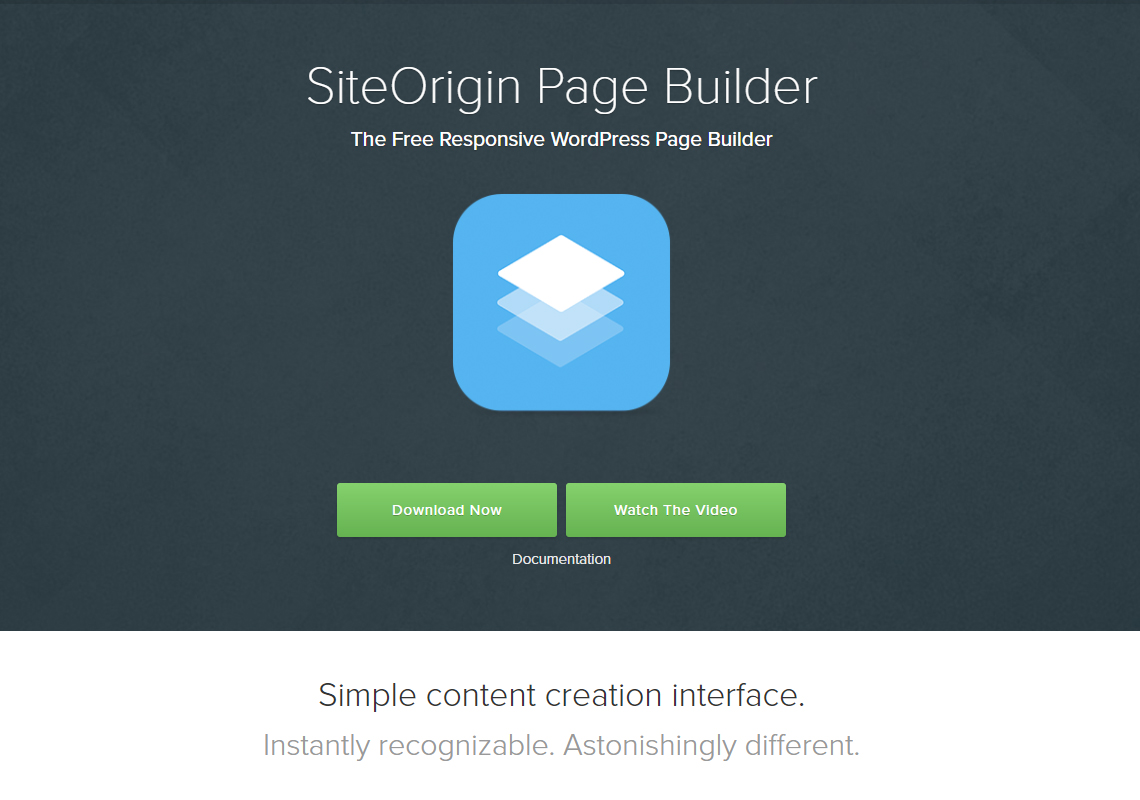 Nearly 1 million people have installed Page Builder by SiteOrigin and it has a rating of 4.8 out of 5 stars on the WordPress repository. It means that many users are content with this plugin for a reason.
The idea behind this plugin is to insert widgets in a layout that can be created by you from scratch or imported from a library. The widgets are fully customisable. Click the "Edit" button from each widget and in the right-hand sidebar you get "Attributes", "Layout", and "Design" sections for stylising the widgets. Page Builder by SiteOrigin is compatible with any theme, and it doesn't conflict with other plugins. On top of that, it's created with SEO in mind and is a lightweight plugin (doesn't slow down your website).
A unique aspect of this plugin is the History feature that looks similar to Adobe Photoshop. Beginners that experiment with adding widgets will fall in love with this option. It's comforting to know that you can undo/redo whenever you want.
The interface is distraction-free and effective. I consider this an advantage, but some reviewers have stated that it's annoying. What do you think about the interface, is it effective or boring?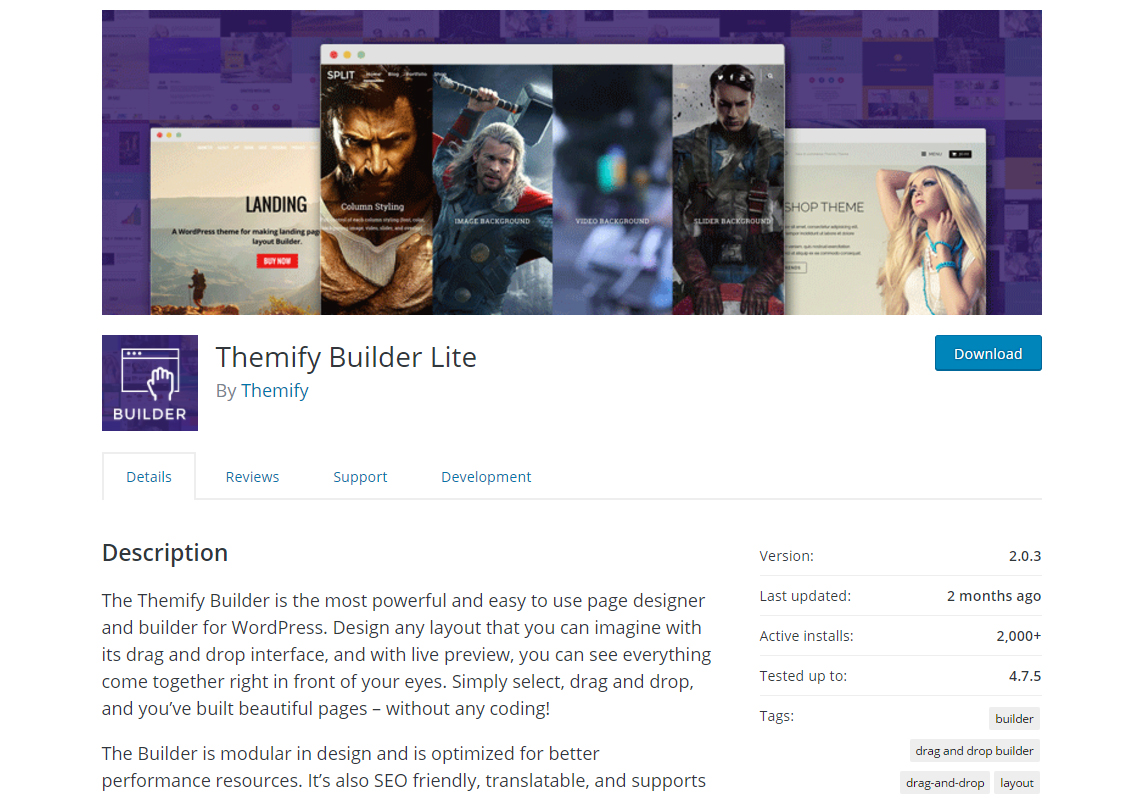 Themify Builder Lite is the less-gifted brother of Themify Builder, the in-house page builder of Themify.
The Lite version lacks many features of the premium version, but it's enough for personal projects. The interface is modern and user-friendly; once I installed the plugin, I could use it to set up a webpage in less than 20 minutes, which means that Themify Builder Lite is suitable for everyone.
The principle of Themify Builder Lite is similar to the previous plugins – drag and drop modules on a canvas then edit them. Even the lite version lets you work on both the back-end and front-end which is a rare feature in page builders. Other features worth mentioning are: Import from File/Post/Page and Export, Load Layout and Save as Layout, Save as Revision and Load Revision.
Overall Themify Builder Lite is a plugin that deserves its place on this honouring list, but it has a minor drawback. The creators claim that it is a drag and drop page builder, but it's not a seamless experience. I can't drag a module from the left sidebar directly on the "drop module here" area.
Intuitively, I tried to drag a module onto other areas and it didn't work either. Instead, I clicked on "+" sign and everything went perfectly. It's not a big deal, but I assume that some users might be annoyed by this fact.
Disclaimer: I had the same problems with two different themes. Maybe these problems are generated by a conflict with the themes. I will greatly appreciate your feedback!
Beaver Builder comes in two versions, free and premium. Lots of leading WordPress developers have reviewed the premium version and were content with its capabilities. However, the price and the multitude of options do not make it a must-have solution for a beginner or even a medium user. The Lite version lacks some important features, but overall it's a more-than-decent page builder.
The interface is discrete and users can fully focus on their layouts. It works with Pages, Posts, and Custom Post Types and it's 100% responsive. There is a huge community of Beaver Builder users and they are very helpful, which is a real advantage for less-experienced users.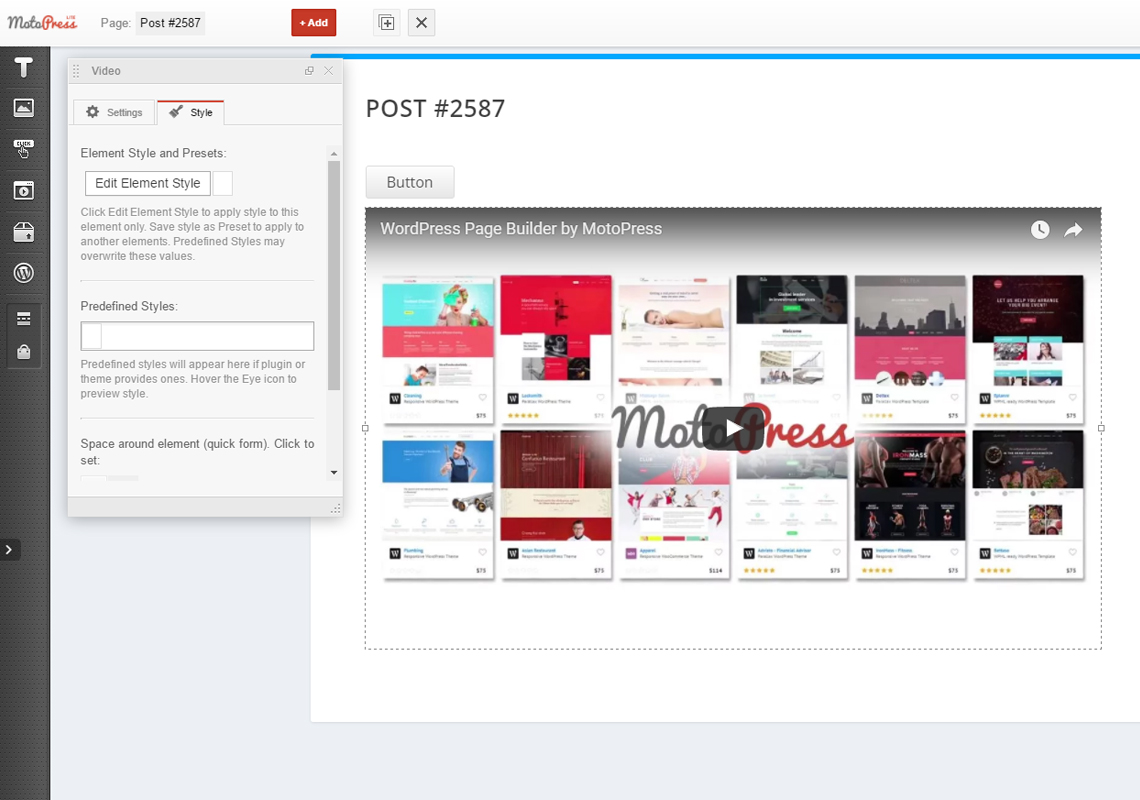 Page Builder by MotoPress is an efficient and visually-appealing WordPress plugin aimed at creating webpages. It is suitable for all kinds of users while the premium version is recommended for designers and agencies.
The outstanding feature of this plugin is the custom editing interface. Unlike the majority of other page builders, it doesn't use the WordPress customiser interface. It's a risky decision, but I think it is a smart approach. The Page Builder by MotoPress front-end interface is intuitive, simple, and discrete. It is compatible with most themes and all layouts created with this plugin are responsive.
The modules are sufficient to create any kind of webpage without writing a single line of code.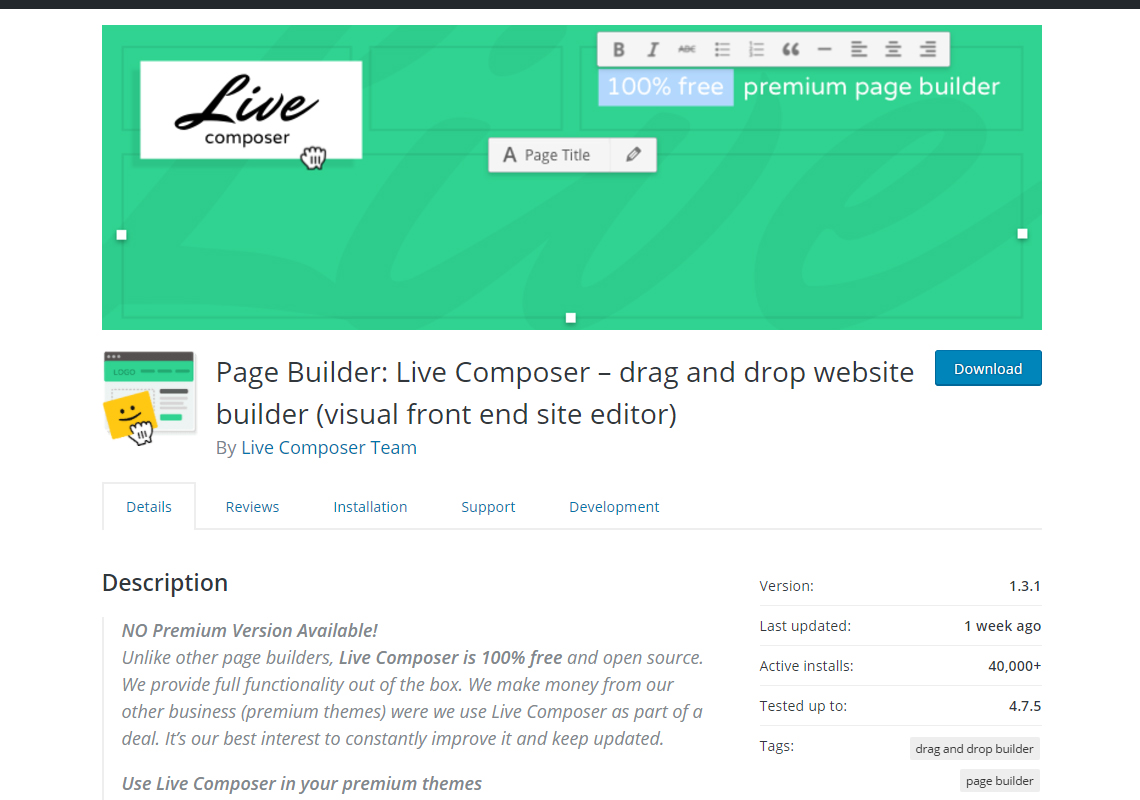 Live Composer is a front-end page builder that impresses both beginners and experts with its modern interface. It's a powerful builder, and it can be used by newbies for an exotic purpose: to learn CSS syntax. Live Composer shows in real-time the updates made, including styling margins, padding, or border radius. There is no better way than practicing and checking the results in real-time.
Altogether, Live Composer is a reliable page builder able to create complex websites without writing a line of code. Its arsenal consists of 30+ modules that are easy to tailor to your needs. Amongst these are standard modules such as Blog, Testimonials, Text, Image, as well as business-related modules such as Woo Products, Partners or Notification. Usually, the latter modules are only available in the premium version of the page builder. If you want to launch an online store and you are on a tight budget, Live Composer is a good choice.
Live Composer lets you save and load page layouts, so you can use your favourite template for each new project.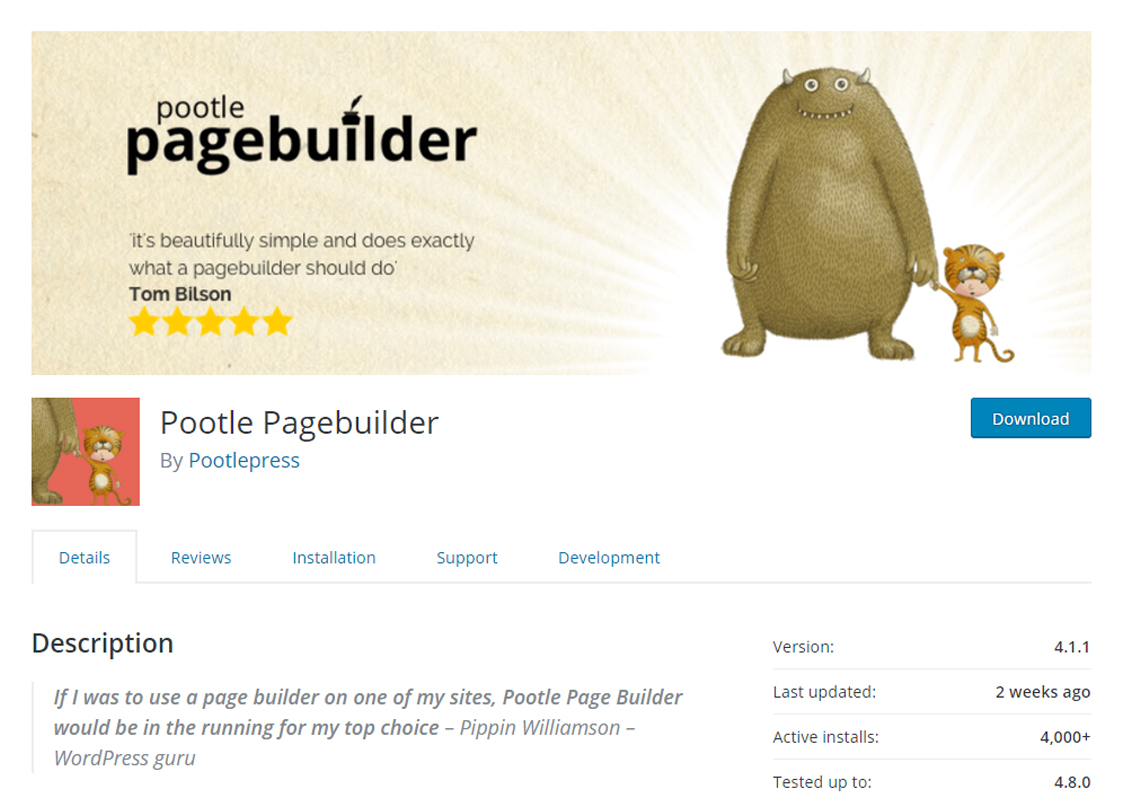 Pootle Page Builder isn't as famous as the previous page builders. The premium version of Pootle Page Builder is indeed well-known, but the lite version has only been installed around 4000+ times. However, it might be an alternative for some users.
Pootle Page Builder works in the same manner: create a row and add modules onto a canvas. It's a drag-and-drop front-end builder that allows users to add CSS customisation. The negative aspect is that the number of modules is significantly lower than other page builders. Let's hope that the developing team will offer a larger pallet of options shortly.
By using this plugin, you can create flexible and full-width rows and add images and video backgrounds to rows. These are premium features that you get with a free plugin.
Another huge plus of this plugin is the intuitive interface, customising the modules is a breeze. Perhaps for some users (me included), the menu icon is too discrete, but it's only a minor drawback.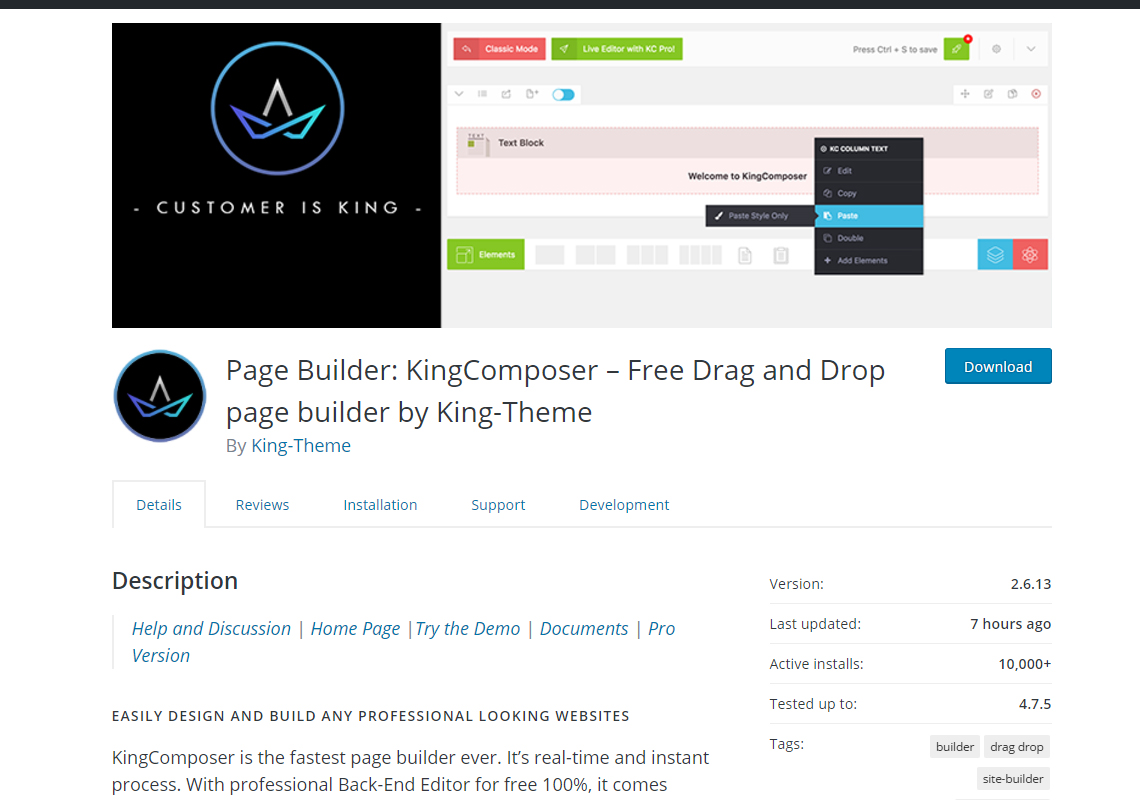 King Composer is another page builder that isn't massively used, but it comes with some features that convinced me to add it here. First, everything you create with King Composer remains unchanged even if you deactivate it. Second, it has elements that add extra functionality and are different from the modules of other page builders. For instance, Twitter Feed, Instagram Feed, Facebook Post, Flip Box, Pie Chart, and Pricing, are just a few King Composer–specific elements. Third, all the elements are fully customisable.
The interface is discrete, but you need to upgrade to the premium version if you prefer to work on the front-end. Unfortunately, King Composer doesn't work for posts. I tried my best to identify a solution, and I would be grateful for your input on this matter.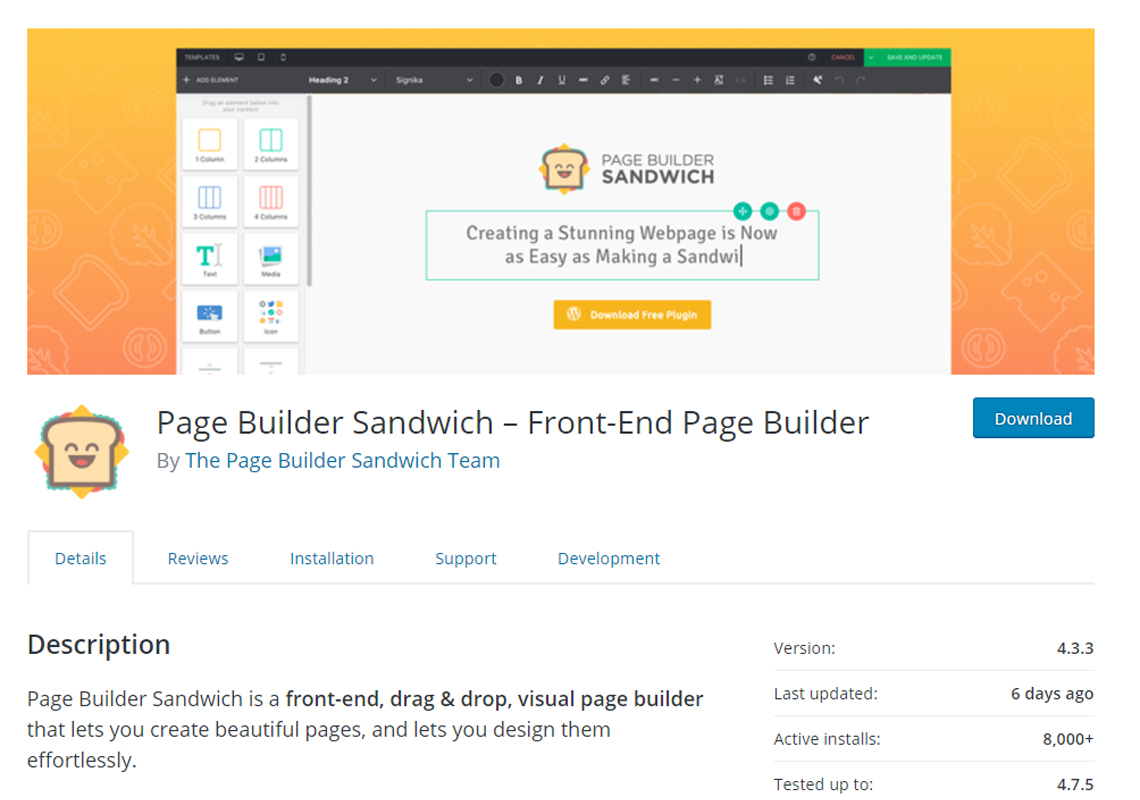 Page Builder Sandwich is a modern and lightweight tool that helps users create stunning WordPress pages.
The biggest issue with this plugin is the huge difference between the premium and free versions. I don't have any idea about the developers' business model, but the free version lacks many must-have features.
Even in these conditions, Page Builder Sandwich is an attractive solution to take into account if you need a page builder. It's a front-end page builder that is aimed at beginners. The nice clutter-free interface, live editing, and simplicity of use are features that sustain this affirmation.
These are our suggestions for free WordPress page builders. All of them are powerful and give users tonnes of options to create a cool web page. Choosing the best plugin is dependent on each preference.
Therefore, we won't rate them or propose that you only use one. Personal preferences aren't questionable.
Instead, we are curious to know your experiences with page builders. Use the comment form and let us know your opinions.
Exclusive 7 Day Course
Defend your site from hackers, improve your website speed, get free uptime monitoring and learn tactics used by WordPress experts
Thank you for subscribing.
Something went wrong.