13. How to Use WordPress for Blogging
WordPress is a five-star blogging platform for both amateurs and professionals. At its roots, WordPress meets the basic needs of a blogger. Additionally, a feature-rich theme and some plugins can transform WordPress into the perfect environment for heavy content websites. Tonnes of news magazine and blogs run on WordPress. WordPress is not only versatile but also easy to use for blogging purposes.
Creating a post is the first step in a blogging adventure. In your dashboard, click on Post and select Add New. The writing editor might not be the best word processor, but it's good enough for most bloggers. Depending on your needs, you can switch between a text and a visual editor.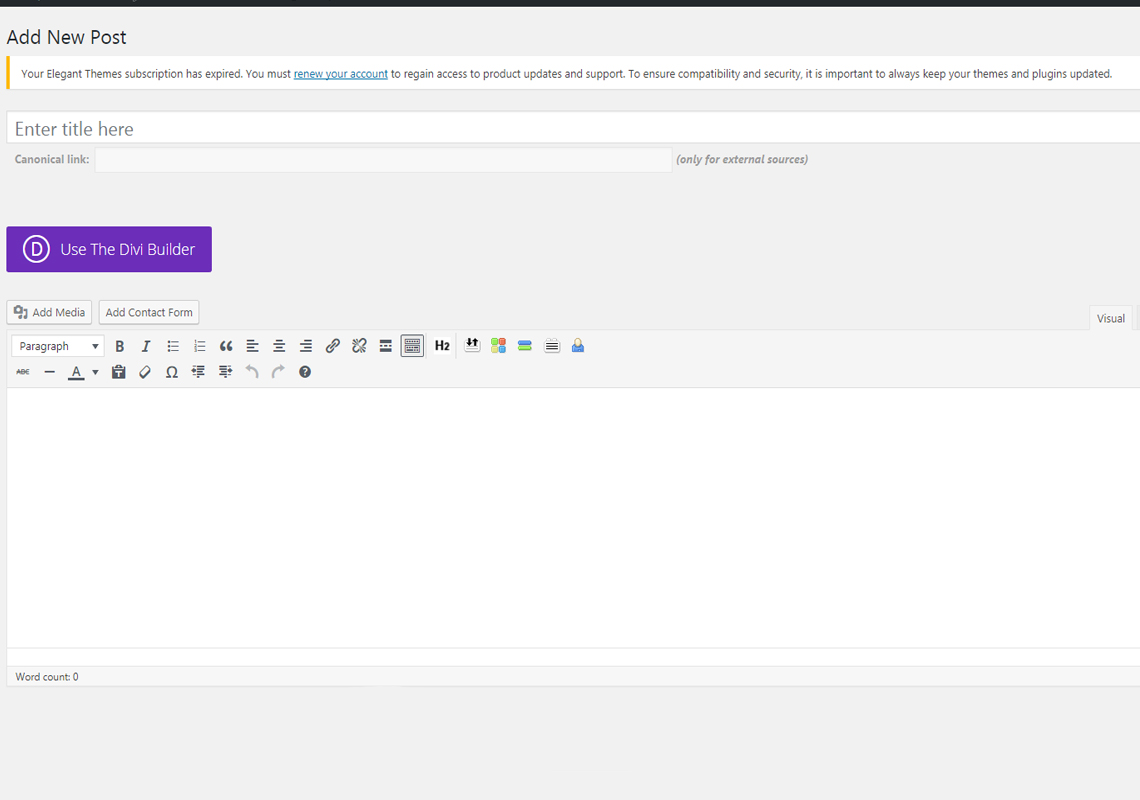 The text editor is a good fit for bloggers who prefer adding HTML tags while the visual editor is efficient at stylising posts. If you are familiar with Microsoft Office, you won't have any problem with handling the post editor.
Here are some tips to streamline your writing process:
Use distraction-free writing mode. It's simple to enable by clicking on the button on the right.
Are you a fan of the Need for Speed video game? If so, you know that by using shortcuts, you get additional points. It's the same with WordPress—shortcuts save you time!
Shortcuts for post editing:
Alt/Option + Shift + w = Full screen distraction-free writing mode
Alt/Option + Shift + m = Insert an image
Alt/Option + Shift + h= Help
Alt/Option + Shift + p= Insert page break tag
Alt/Option + Shift + n = Check post spelling
Alt/Option + Shift + a = insert a link
Shortcuts for managing comments:
a – approve the comment selected
s – mark as spam a comment
r – reply inline
q – activate "quick edit" for inline editing of the current comment
Use images and videos to make your blog posts cool and easy to digest. Avoid large blocks of text by any means necessary. Insert images, infographics, and videos that are relevant and emphasise your ideas.
Don't upload videos to your blog. Most likely, your blog is on a shared-host account, and a video will slow down the loading speed and use precious bandwidth. Embedding a video is a better solution because WordPress supports many video sharing networks. A YouTube video can be embedded in your blog post by simply pasting the URL into a post.
Group your posts into categories to help people find the content they need. WordPress' default dashboard lets you add a blog post to categories with a single click.
The menu can make or break a blog. Choose your menu sections wisely. As a rule of thumb, a good menu instantly reveals the blog topics.
Blogging is more than writing posts. The Internet is full of compelling content and bloggers fight for each eyeball. The most successful bloggers state that writing is only a small part of their overall work.
So there are more than a couple of things to do if you are committed to attracting visitors and making some money from blogging.
HINT: These tips won't make you a better WordPress user. Rather, they will save you a lot of time if you decide to launch a blog. Taking into account the efficiency of content marketing, I think that a blog is a must for any website.
A Clear Strategy
A successful blog isn't the result of luck. It's all about 99% perspiration and 1% inspiration (as Thomas Alva Edison said about his work). The pillars of this strategy are the following:
The blog niche
You can't write about everything, there are plenty of huge magazine news sites with solid teams of bloggers and serious budgets that do that already. The solution is to find a niche and write within it. One-by-one, people interested in your niche will visit the blog and became loyal readers.
The posting schedule
Don't confuse your readers by posting inconsistently. Stick to a schedule and do your best to respect it.
The blog post format
All famous bloggers have tested their blog posts until they found the best format. You must do the same, but try to create a standard post and go with it. Don't mix long posts (2500+ words) with short ones (500–800 words).
Stay Committed to Your Work
The majority of blogs are abandoned in just a few months because bloggers expect a fast profit.
Blogging is a long journey, and only a small number of bloggers fulfil their expectations. If you don't care about your niche, I doubt that your blog will be relevant.
Promote, Promote, Promote
People get distracted by discounts, deals, or promotional messages. Everyone's inbox is more crowded than ever, and the Facebook timeline displays tonnes of sponsored posts. Few people will remember to visit your blog if you don't let them know that you wrote a new article. Promote your posts on multiple channels and evaluate the results. Then, focus on the channels with the best results.
Useful Resources to Check Out:
Exclusive 7 Day Course
Defend your site from hackers, improve your website speed, get free uptime monitoring and learn tactics used by WordPress experts
Thank you for subscribing.
Something went wrong.