14. How to Create a Search Engine Friendly Website
There is no 100% optimised website; you can tweak and improve it until the end of the world. However, this fact shouldn't disappoint you because a few actions can significantly boost your search rank.
Getting the first position in the search results isn't simple at all, and unfortunately, if you aren't on the first page of results, you don't exist! You don't have much chance of getting good traffic unless you get the first positions for your keywords. Here are some pieces of advice to optimise your WordPress website.
Keyword Research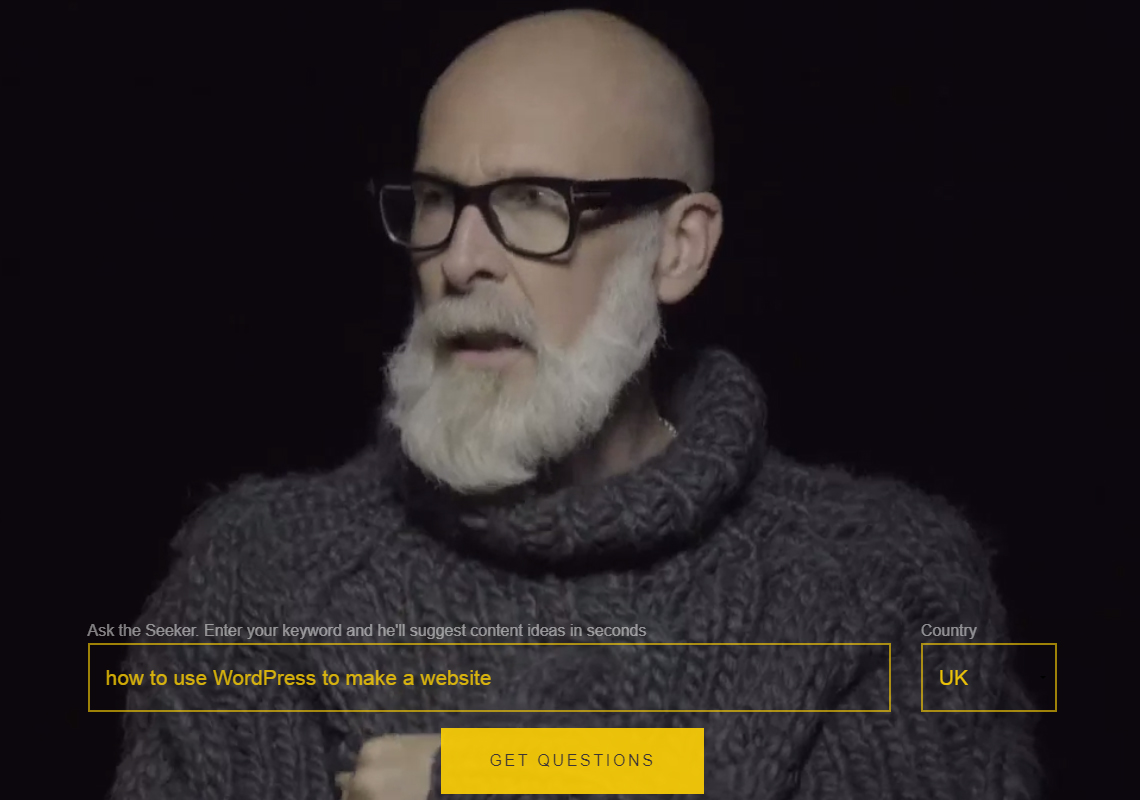 It is way easier to rank on the first page for keywords such as 'use WordPress to make a website' than 'edit WordPress'. 'Use WordPress to make a website' is a long-tail keyword while 'edit WordPress' is a short-tail keyword. The former is searched by fewer people, and the competition is relatively lower.
Keyword research is a vital aspect of getting traffic. Optimise your website for long-tail keywords because you will attract people who are genuinely interested in your content. As a bonus, you can reach the first page in less time.
Add Your Keywords into the Meta Description
The opinions of SEO experts are biased. Some of them state that the meta description and meta tags have no value. Other say that search engines take them into account. My personal opinion is that regardless of the truth, the meta description is important.
The meta description is the snippet of text displayed underneath the link on a search results page.
People read these descriptions to get an idea of the link. A relevant description helps people understand your content while the lack of one puts you in trouble. Go to Settings > General and put in the Tagline the proper description for your website.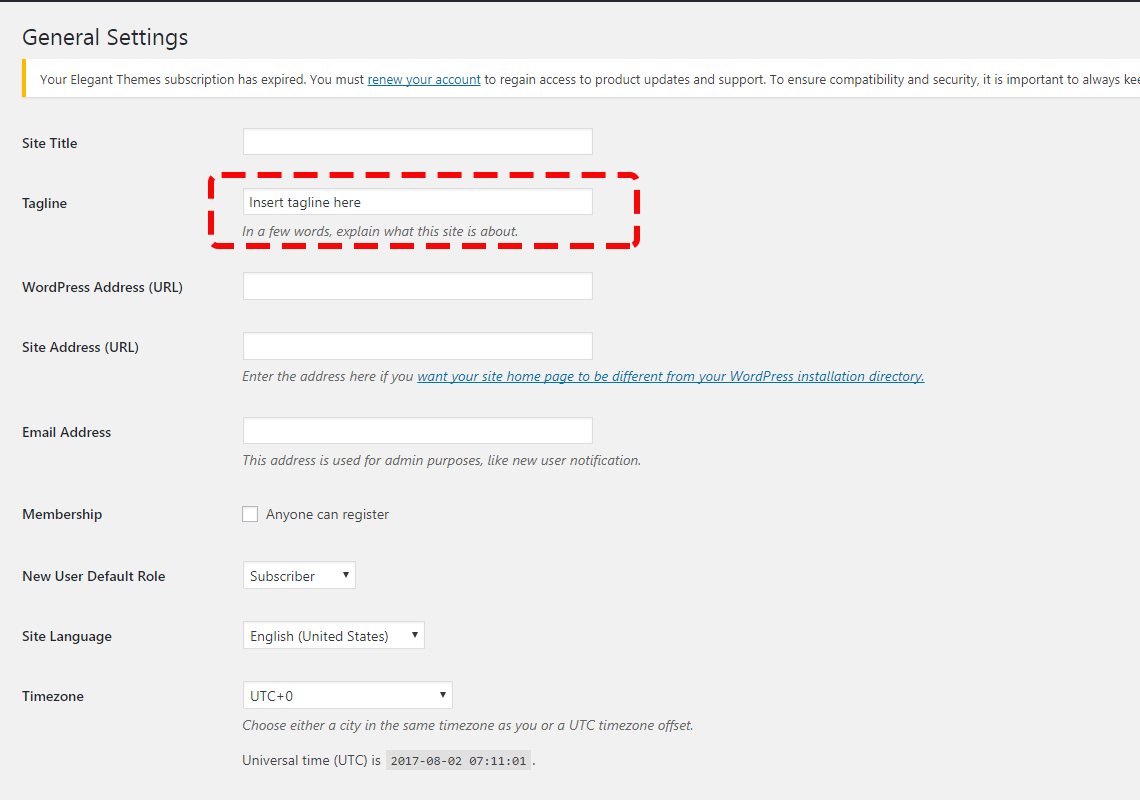 Add Relevant Content to Each Web Page
The major contributor to your SEO strategy is the website copy. Write relevant content that brings value to readers. Many experts believe that each web page should have at least 300+ words. It's not a carved-in-stone rule, but it's better to respect it.
Use Internal Linking
It's simple: Google and other search engines want to offer the most relevant results to searchers. Good internal linking is good for users—they might consult additional resources without searching again and again. Website owners are happy that the bounce back rate is low, and readers are satisfied that they won't waste time. Everyone wins!
Useful Content
Fresh and valuable content is a crucial factor that improves a website's ranking position. Publishing new blog posts is the best method of bringing fresh content to the table. However, don't publish a blog post without checking the following recommendations.
Write an Attractive and Relevant Title
Don't write long titles; 55–60 characters is enough to present your article and be properly displayed. If possible, add your keyword(s) into it. The title must be relevant to the article, but at the same time, it should be catchy. The title is what a visitor will read first.
Use Headings
Headings are similar to a title, and their role is to help content creators deliver digestible articles.
They are the perfect tool to create a hierarchy order. There are six types of headings — heading 1, aka <h1>, is for your main title; heading 2, aka <h2>, is for subtitles and sections; and heading 3, aka <h3>, can be used for link groups such as a heading for a list of resources. The rest of the headings are rarely used.
Headings differ by font size; the smaller the heading number is, the bigger the font size is. Use <h2> headings to style your posts, and insert your keyword into them.
Use Alt Tags
Many bloggers ignore alt tags, but you shouldn't fall into this trap. Alt tags improve the accessibility of your website and inform search spiders about the purpose of the image. They are simple to use — for additional details, check out this Moz article.
Write 10x Content
Marketers say that your blog is a success if you are able to publish 10x content. Nobody has the recipe for writing only 10x content. Honing your style, crafting a clear message, and using your own unique voice are mandatory in order to deliver valuable content. With time and by getting more experience, you will be able to provide 10x content.
Useful Resources to Check Out:
Long tail keywords are explained in this post by Brian Dean, a famous SEO expert.
Meta tags may not sound familiar to beginners. This Codex post is a good start to master this concept.
Google helps webmasters create SEO-friendly websites. Check out this resource and implement all the tips.
15. How to Install WordPress SEO Plugins
The above tips just scratch the surface. Google looks at 200+ factors when ranking websites, and the algorithm it uses is secret. SEO specialists know a thing or two about search engines, but their activities require a lot of trial and error work. As I have already mentioned, there is a plugin for each issue. They are extremely useful, and I strongly recommend installing one of them. If you are in doubt, check out these suggestions.
Yoast SEO is an SEO plugin suitable for both large websites and small personal blogs. Once you have installed it, the Yoast icon will be visible on your dashboard, and you should configure it to suit your website (General > Configuration Wizard > Open). It's simple, intuitive, and doesn't take much time to set up.
Yoast SEO comes with a suite of useful features. You may modify robots.txt and .htaccess from the Tools section of this plugin. Also, this plugin automatically generates XML sitemaps. The real power of Yoast SEO, however, is the post optimisation; all bloggers should use it.
First, the plugin checks the readability of the posts and offers useful suggestions—it looks similar to the Hemmingway App, a valuable tool for writers. Second, it allows users to set a focus keyword and determines the keyword density. The user has full control over the SEO title, slug, and meta description by using the snippet preview.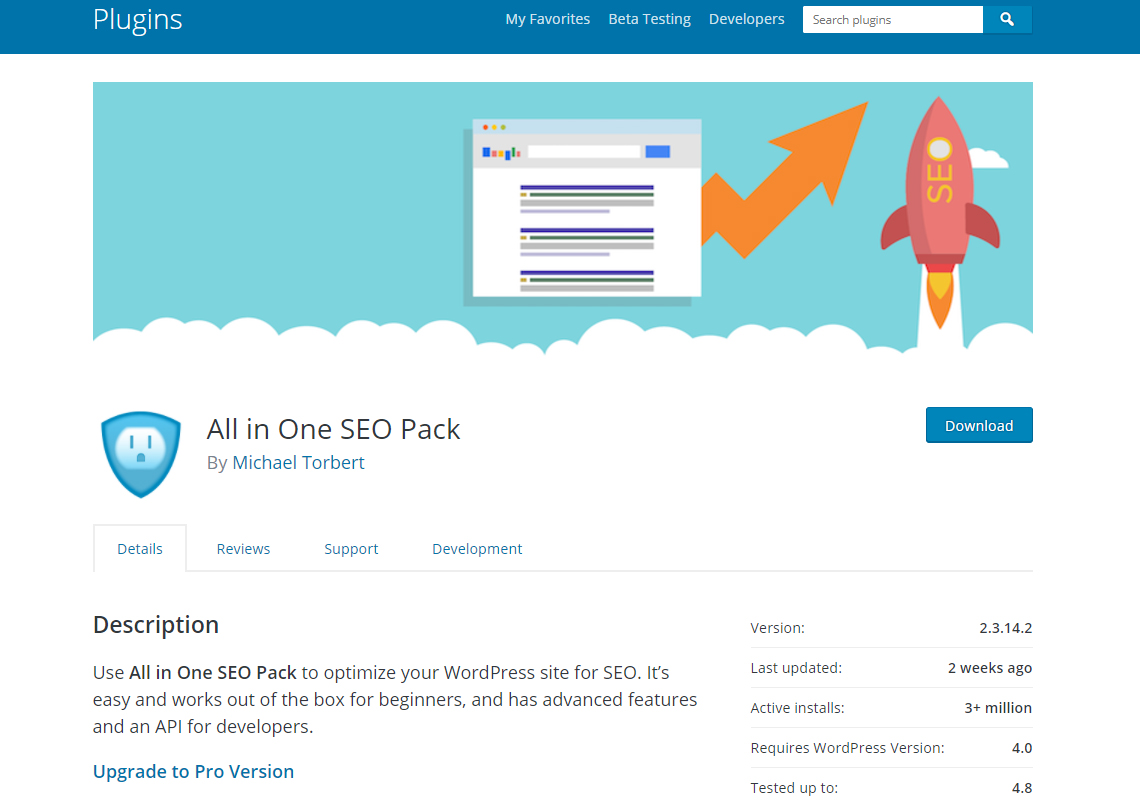 All in One SEO is another complex SEO plugin that deserves to be featured here. It's default installation is enough to improve your SEO strategy significantly. Less experienced WordPress users like this approach.
It has three sections: General Settings, Performance, and Feature Manager.
General Settings is for setting up the plugin. Performance provides complete insight into the system status. It includes the active and inactive plugins and data about the server, PHP memory limit, maximum upload size, and maximum post size.
Feature Manager consists of eight modules (seven free and one paid pro version): XML Sitemaps, Robots.txt, Importer and Exporter, File Editor, Social Meta, Bad Bot Blocker, Performance, and Video Sitemap. The names are pretty suggestive of their functions.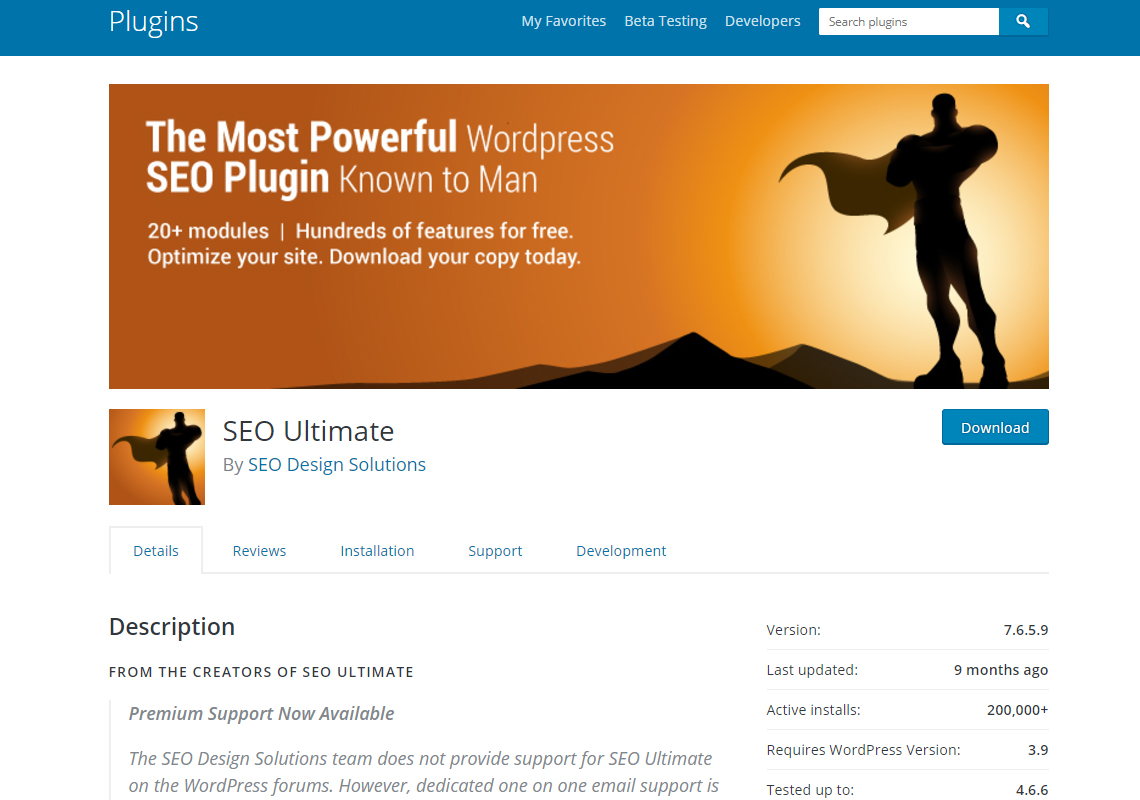 SEO Ultimate has the same purpose as the previous two plugins, the same good rating, and similar results.
Still, SEO Ultimate takes a different approach: it's more adjustable. I mean, very adjustable! You can enable specific modules and disable the rest.
Once you install and activate the plugin, you will see a general dashboard featuring all 25 modules. Some of them are enabled by default (404 Monitor, Code Inserter, Deeplink Juggernaut, Title Tag Rewriter, etc.), and others are disabled and require your action to make them active.
404 Monitor is an awesome tool for dealing with broken links. It gives you a complete overview of broken links. Code Inserter lets you easily add code to the footer, header, or other parts. The Meta description is epic; from a simple panel, you can add or change the meta description for the homepage, pages, categories, or posts.
Another cool module is Meta Robot Tags—you can set up which posts will be indexed and which one to be "noindex" or "nofollow." Users who are crazy with permalinks should be happy; the Miscellaneous module has a permalink tweaker feature. Without a doubt, you should try SEO Ultimate and test all the modules.
Useful Resources to Check Out:
This is the end of our WordPress journey. However, you are at the beginning of your journey to mastering WordPress. You will encounter a lot of issues, but others have already have found solutions to them. The WordPress community is helpful, and by using the forums, Facebook or Google+ groups, blogs, or courses, you will find guidance and tips to resolve any problem. Of course, consult this guide for basic information about using WordPress to make a website.
Exclusive 7 Day Course
Defend your site from hackers, improve your website speed, get free uptime monitoring and learn tactics used by WordPress experts
Thank you for subscribing.
Something went wrong.